Castle Pines Chamber Hosts Annual Trick-or-Treat Street
December 1, 2008
/
/
Comments Off

on Castle Pines Chamber Hosts Annual Trick-or-Treat Street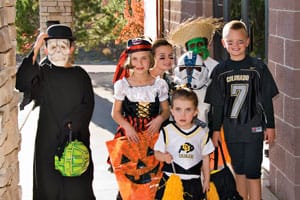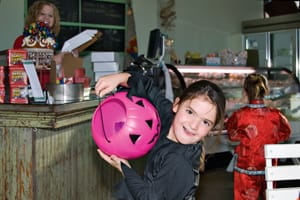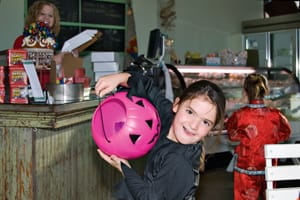 by Anthonette Klinkerman
The unusually warm autumn weather cooperated and brought out a host of little goblins to the second annual Castle Pines North Trick or Treat Street. On Wednesday, October 29, 33 Castle Pines Chamber of Commerce businesses participated to create a safe Halloween environment filled with candy, goodies, and activities for the young and young at heart.
Pirates, fairies, cats, and even a dog dressed as a dragon, marched through the business district from the Safeway shopping center to the King Soopers shopping center. Local merchants filled goodie bags with treats from sippy cups to a stuffed "Little O", the prickly-headed mascot of Big O Tires, along side of popular candy items.
Owner of Big O Tires, J. McElroy responded, "I was ecstatic with the overall response. It was almost overwhelming. Parents were even thanking me on Halloween night at my door for what were did for the kids of the community."
On the back patio of Daz Bog Coffee, trick-or-treaters could frost and decorate cookies with anything from sprinkles to candy corn. The activity was sponsored by IREA, Steve Zahorik with Wachovia Securities, and Anthonette Klinkerman with SendOutCards.
Linda Clure with ReMax Elite provided juice boxes, and Colorado Kids Pediatric Dentistry sponsored the Toys"R" Us Gift Certificate drawing. More than 300 kids walked through the district, admiring the festive window paintings done by the Art Department of Rock Canyon High School. Students from the school also assisted with the cookie decorating and were rewarded with community service hours.
Dr. Jason Ortman of Castle Pines Eye Care offered coupons for $75 off of glasses along with candy treats. Office staffer Michelle Bechtel estimated 240 kids passed through their offices, and that they gave out more than 500 pieces of candy.
At the end of the two hours, when candy supplies were running low and little costumed bodies were growing tired, sponsors and participants alike were already looking forward to next year. Check out the photo album at www.castlepineschamber.com.