Castle Pines council favors reservoir recreation plan
February 1, 2014
/
/
Comments Off

on Castle Pines council favors reservoir recreation plan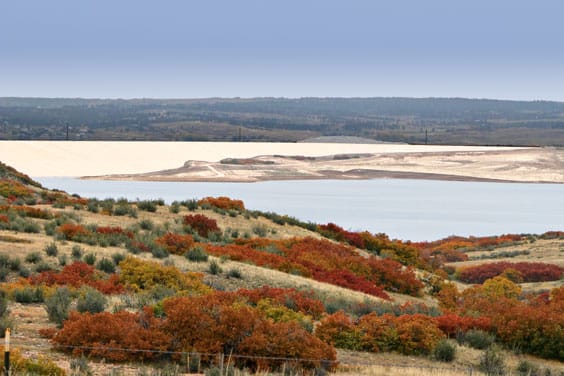 Rueter-Hess Reservoir as seen from Hess Road in Castle Pines – not yet
filled with water and not yet ready for recreational usage.
Article and photo by Steve Baska
The Castle Pines City Council on January 14 heard details about a recreation development plan for Rueter-Hess Reservoir, located east of I-25 and Castle Pines Parkway, and the Council agreed the City supports developing recreational uses there.
Ron Redd, district manager of Parker Water and Sanitation District (PWSD), which manages the reservoir, told the Council that a recreational use plan for the reservoir will likely include hiking and biking trails, fishing and non-motorized boating, such as canoe usage.
There is no timeline yet for when that recreation may start, but Redd has also presented the plan to neighboring cities, including Parker and Castle Rock, and said he hopes a governing board can be established with area cities and other partners to manage recreational development.
The Castle Pines Council agreed informally that recreational development was a good idea, and the city may want to be part of the planning process. Mayor Jeffrey Huff said, "All of us get questions about it [recreational use] and we have ever since the reservoir was built. We're excited at the prospects of what can be done there. Now the varied entities have to come up with a workable plan."
Huff said that since it has not been determined yet exactly what the governing board will include, it may be premature to say if Castle Pines would have a representative on that body. Redd said that the governing body structure could start being put into place as early as the next few weeks as a publicly-approved document is drafted.
Castle Pines Councilman Roger Addlesperger asked Redd during the presentation if any more environmental studies need to be done before recreation sites are developed. Redd said no, that all such studies were completed in 2004.
Redd also explained that a special area of additional recreation potential is on 550 acres on the north side of the dam, near Hess Road, which PWSD owns. Possible uses there could be a golf course or mountain biking area, he said. The likely first developments in the reservoir area would be hiking trails that could stretch clear to I-25. For more information about Rueter-Hess Reservoir, visit www.pwsd.org.