Castle Pines election Sample ballot
October 1, 2012
/
/
Comments Off

on Castle Pines election Sample ballot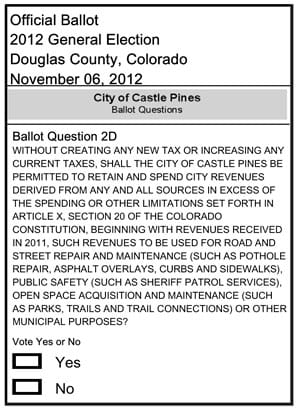 Ballot language for upcoming City of Castle Pines election Sample ballot from Douglas County website.
Residents in the City of Castle Pines will have a decision to make in the upcoming November election regarding a TABOR (Taxpayer Bill of Rights) question placed on the ballot by the City.
Below is the exact question language as it will appear on the ballot. For additional information regarding the TABOR ballot question, go to
www.castlepinesgov.com.