Castle Pines Jewelers answers opportunity knocking again
January 1, 2010
/
/
Comments Off

on Castle Pines Jewelers answers opportunity knocking again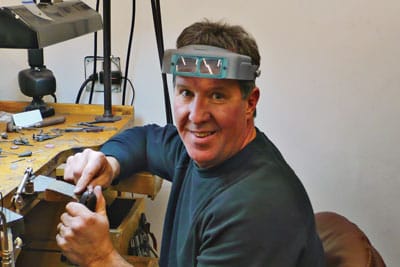 Castle Pines Jewelers owner Jeffrey Rein works on a piece of custom jewelry for a customer in is store in the Village at Castle Pines.


By Anthonette Klinkerman
It is said that opportunity knocks all the time, but people often do not recognize the sound. Jeffrey Rein is a person who has become more than adept at recognizing the sound and responding accordingly. He has earned himself the nickname "Gypsy Jeffrey" because of the numerous moves he has made, and he is about to relocate his jewelry store for the eighth time.
Moving a few doors down from its current location in The Village at Castle Pines in mid-January, the new storefront will be smaller and will feature a more contemporary look. Large plasma video screens in the front window will scroll through various glittering pieces. One screen will be hooked to a live feed camera poised over their laser-welding table so passers-by can watch jewelry being made.
From imported pieces from Spain to glass from Italy, the store features something for everyone. Other pieces, Rein is proud to say, are one of a kind designs, including an impressive array of his own creations. "Many times the pieces I make are commissioned and are never featured on the floor."
A man's ring he designed and brought out was a tiny exact replica of the 18th hole of a famed golf course, including intricate details of the railroad ties around the sides. A semi-precious green stone made up the "green", and a diamond marked the pin placement.
Rein's attention to detail and warm personality are the reasons his clientele has been willing to follow him everywhere over the decades. He was quick to spot a loose couple of stones in my ring, and dropped everything to fix them right then and there.
His expertise as a jeweler emerged early when Rein was still in high school at Douglas County. Rein was hired by Gary Garner of Argenzio Brothers Jewelers, and became a polisher working for $3.10 an hour. His reputation grew, and despite being made a generous offer to stay and continue working for Garner, Rein moved to Sheridan, Wyoming, to begin his own store with his cousin.
Things did not go as smoothly as he would have hoped, and Rein eventually moved back to Castle Rock. A few moves around downtown Castle Rock, each one shadowed by construction that shuttered many businesses, precipitated the move to Castle Pines.
The twinkle in Rein's eye revealed his enthusiasm for a new computer program called Sterling Settings that the family operation will be using in their new location. "It will allow people to design their own pieces and have it created in eight days," he said. The program even makes the wax mold for the piece. Rein is looking forward to tutoring people on the program to aid them in designing pieces.
About the moving around the jewelry store has done in the past, Rein's daughter Lacee just smiles, "That's him for you, always looking forward." When opportunity knocks, Jeffrey Rein is the first person to answer the door with bags packed and ready to go.