Castle Pines Safeway closure – the real loss
June 1, 2015
/
/
Comments Off

on Castle Pines Safeway closure – the real loss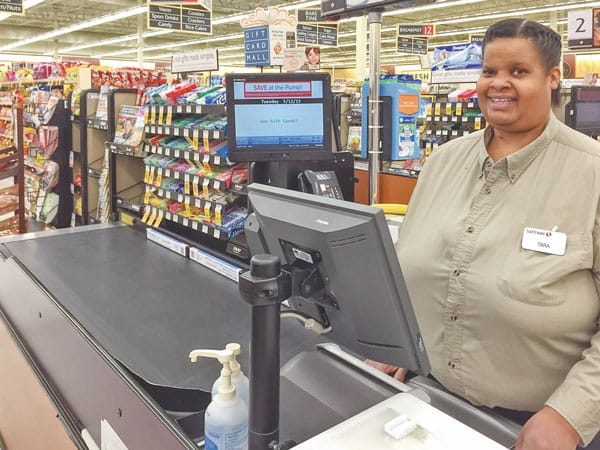 Residents will most miss the friendly and caring people who were the essence of the Safeway in Castle Pines. Cashiers Tara (above) and Sandy (below) were an important part of the customer service experience.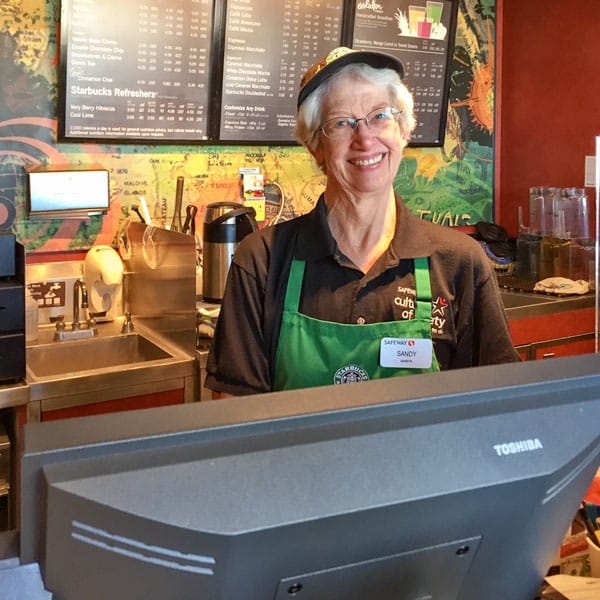 Article and photos by Joe Gschwendtner
The Safeway Corporation made some tough decisions on store closures last month. Kris Staaf, Safeway public relations director advised that along with eight other stores, the Castle Pines Store has "not been profitable for quite some time and despite best efforts of the company and employees, we have not been able to reposition them to better compete."
We all knew it was coming, but hoped against hope. Our Safeway was convenient, price competitive, and it took customer service to new levels of excellence. Here's why so many of us are sad to see it close:
Take Tara … For 11 years she was the queen of smiles in the store at check-out and as a store trainer. Never short of good cheer, Tara could light up anyone on the worst of days. Originally from Brooklyn, she came west to attend her brother's wedding in the early nineties. She knew there was a new life here and quickly decided to relocate.
Tara was raised in the government projects where gunshots were not uncommon. But under the strong hand of her mother and Catholic schooling, she learned some powerful life lessons that made all the difference in her attitude and friendships. She goes to work every day purposefully trying to make people happy and feel better about themselves. Tara has succeeded masterfully. When her mom died 18 months ago, it was Tara's customers who were her best friends and "family" that helped her through her grieving.
As the store struggled over the years, there was also Hamid, the assistant manager. Since customer flow was usually erratic, he frequently got called up to the front to help with check-out duties. No problem was insoluble to a stoic Hamid. If you were displeased with a product, overcharged in error, or needed another copy of a coupon, he was the fixer. Always with a wry grin. There was no doubt that in making things right for you, he loved it.
Up in the Starbucks corner, Sandy was the star. Like many of her customers, Sandy was a senior. Like many of her colleagues, she inspired you. Perhaps it was the twinkle in her eye; maybe the subtle understanding she showed when you told her exactly how you wanted your coffee? Or, maybe you just marveled at the professionalism with which she made your coffee. Her entire demeanor bespoke satisfaction and fulfillment. Sandy flat adored her job and the relationships that came with it.
It's a real shame that Tara and Sandy won't be there much longer (Hamid has already moved on). There is good reason to believe they'll find other positions with Safeway. But next time you see them, take what might be your last opportunity to tell them that they made all the difference to you.