Castle Pines Veterinary Clinic
August 1, 2008
/
/
Comments Off

on Castle Pines Veterinary Clinic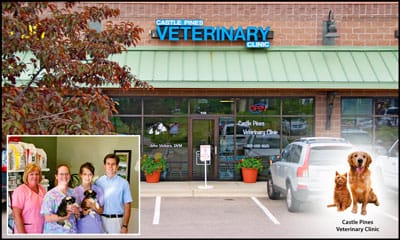 by Terri Wiebold
It has been said that a dog is a man's best friend. Well, in Castle Pines North and surrounding communities, a dog's best friend is a man – Dr. John Vickers at Castle Pines Veterinary Clinic.
Colorado native and former school teacher, Vickers left the student classroom for the pet operating room to pursue his passion for animals. His goal is to keep business small, friendly and casual and to slow down and take the time necessary to treat his clients with compassion.
"We treat your pet as we would our own," said Vickers. "We understand the special role your pet plays in your family and we are dedicated to becoming your partner in your pet's health care."
Castle Pines Veterinary Clinic is a full-service veterinary facility providing comprehensive medical, surgical and dental care for a variety of small domestic animals. Its services and facilities are designed to assist in routine preventive care for young, healthy pets; to enable early detection and treatment of disease as a pet ages; and to provide complete medical and surgical care as necessary during the lifetime of a pet.
The clinic provides a broad spectrum of diagnostic procedures through in-house testing and the use of external laboratories. Staff works closely with local specialty practices when additional diagnostic procedures are required. The facility includes a well-stocked pharmacy, in-hospital surgery suite, in-house x-ray capabilities, and a closely supervised hospitalization and treatment area.
Located at 361 Village Square Lane, Suite 110, Castle Pines Veterinary Clinic is open Monday, Wednesday, and Friday from 8 a.m. to 5 p.m., and Tuesday and Thursday from 8:30 a.m. to 6 p.m. Offices are closed Saturday and Sunday.
For more information about the services provided, visit www.castlepinesvet.com or call 303-688-8665. Please call the main telephone number for instructions for after-hour emergencies.