Castle Pines Village author focused on success
July 1, 2012
/
/
Comments Off

on Castle Pines Village author focused on success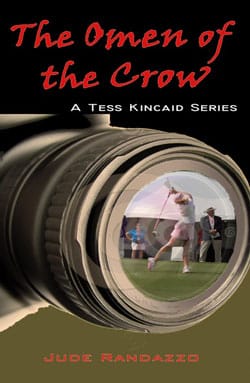 By Kathy Dunker with book cover graphic provided by book publisher, Books to Believe It
Not your average Joe, Castle Pines Village resident, Jude Randazzo, is a notable author who is about to publish his second book. Randazzo's books are a fictional series featuring his main character, Tess Kincaid, an accomplished Ladies Professional Golf Association (LPGA) golfer.
Randazzo's readers are mostly women between the ages of 30 and 70. He finds that his readers relate to Tess Kincaid, who is a bit more glamorous than most people, but also has her share of flaws. Randazzo's approach is to provide interesting characters but not too many of them so readers can easily keep track of who's who. The storylines move swiftly and use suspense without much gore.
In the first book "The Golden Cocoon" Kincaid overcomes trauma and rediscovers her passion for life while in Tuscany. The book was published March 2010 and recently sold out at Amazon.com. "The Golden Cocoon" second edition will be out sometime in the next six months.
The second book in the series, entitled "The Omen of the Crow" is more of a thriller similar to Alfred Hitchcock's "Rear Window." Due to Kincaid's fame and fortune, she attracts a stalker who, according to Randazzo, does a lot more than stalking. "It's a fast moving story that also involves a plane crash and a little romance," he said. "The three or four readers I had [spoken to] said it was a page turner! The book has enough action to keep any reader intrigued."
Randazzo, born in New York, moved to Colorado while in high school. With a degree in economics and a veteran of law school, Randazzo has done quite a few things in his life, including financial operations in the corporate world and was the owner of a white water rafting company. Randazzo retired to Maui for three years but commented, "I had to come back due to sheer boredom! I then discovered that writing is my passion."
Randazzo is already starting on his third book in the series which will be a combination of suspense and action. Randazzo will hold a private book launch for "The Omen of the Crow" at his home later this month. Expect to see the book available on Amazon.com on July 15.
Pictured left: Jude Randazzo's second novel "The Omen of the Crow" will be out July 15 on Amazon.com in paperback and Kindle.