Caught with Courtesy and Manners
December 1, 2010
/
/
Comments Off

on Caught with Courtesy and Manners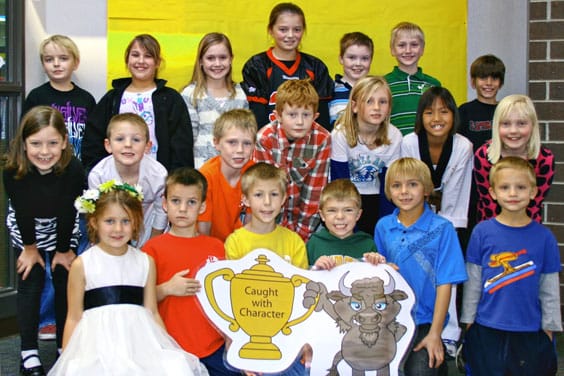 Back Row: Mark Victery (Mr. Jenson); Grace Fling (Mrs. Jaramillo); Avery Tisdale
(Mrs. Sedersten); Grace Owens (Mrs. Phelan); Kerst Meibos (Mrs. Pedrett); Thomas Waggett (Mrs. Herzog); Xander Keriazakos (Mrs. Pinke). Middle Row: Morgan Wright
(Mrs. Coombs); Zander Danyliw (Mrs. Shaffner); Eliot Nelson (Mrs. Jacoway);
David Wright (Mrs. Miller); Lexi Pendergraft (Mrs. Brester); Emily Everds
(Mrs. Kennedy); Mikayla Jennings (Ms. Carter). Front Row: Logan McDowell
(Mrs. Davis PM); Willis Browning (Mrs. G); Kyle Riner (Mrs. Lang); Clay Stanley
(Mrs. Shepherd); Mason Goble (Mrs. Wedge); and Orion Rand (Mrs. David AM).
Information and photo provided by Elean Gersack
As part of Buffalo Ridge Elementary School's Character Education Program Caught with Character, students were caught with courtesy and manners during October. Congratulations to these students who were selected as their classroom character representative for the month.