CC-20 Development Moving Forward
July 1, 2006
/
/
Comments Off

on CC-20 Development Moving Forward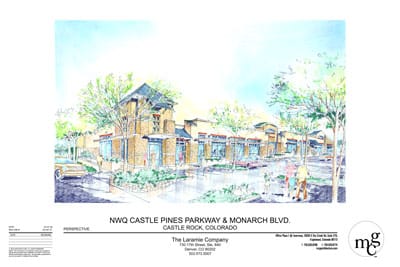 By Lane Roberts
Village Homes, owner of the land located on the northwest corner of Castle Pines Parkway and Monarch Boulevard known as CC-20, has filed three land use applications with Douglas County in an effort to move forward with development of the parcel.
Village Homes is expecting to receive comments from Douglas County regarding the two land use applications filed in May. Village Homes hopes to convert a portion of CC-20 from commercial to residential land use. The land use applications filed included a "planned development amendment" and a "minor development plat."
The entire 15.7 acre parcel was originally zoned for commerical development when the master plan for Castle Pines North (CPN) was created in 1982. New plans on a portion of the parcel call for 47 residential units which include patio homes and town homes, requiring the property to be re-zoned.
According to Village Homes, a site improvement plan for the first commerical portion of CC-20 was resubmitted to Douglas County the week of July 24. "We decided to withdraw our initial submission of the site improvement plan in order to give our real estate marketing team the opportunity to review plans from their perspective," said Margaret Barden, public processing manager for Village Homes. "We are going to make a few minor architectural changes to the building elevations, which we feel will improve the development's compatibility with the neighborhood." Barden said they also plan to adjust grading plans for the parcel in order to maximize division of tentant spaces.
According to Barden, Village homes expects final approval of the site improvement plan following approval of the planned development amendment and minor development plat in November.
Barden also said Village Homes plans to be ready for public hearings on this proposal by the end of October. "The residential component of the project should begin in the Spring of 2007," said Barden.
Marketing the Property
The entire commerical area of CC-20 is expected to be about 40,000 square feet, or two-thirds the size of a standard King Sooper's grocery store.
On June 17, the Laramie Company, a brokerage and consulting firm hired by Village Homes, began to market the commerical portion of CC-20. Barden said the Laramie Company has received "strong interest" from several daycare providers, along with inquiries from a salon, coffee shop, and a deli.
Village Homes' plan for CC-20 also calls for a 5,000 to 6,000 square foot library as the "anchor" for the development. The Connection recently asked Ron Skarka, vice president of planning for Village Homes, about the Douglas County Library's funding issues. Library Director Jamie LaRue had previously indicated that the District could not build a facility in CPN for several years, due to budget constraints.
"While there may be funding issues with the (Library) District, it is in no way changing our plan for the site," said Skarka. "The first building still being planned is the one Jamie LaRue requested and space in the building is being designed with the Library in mind."
Skarka said Village Homes is "looking at other alternatives to getting the Library in this Center sooner rather than later." Negotiations between Village Homes and the Douglas County Library District are continuing.
Village Homes will return to CPN in September or October for another public meeting. Watch for updates via e-mail or at www.cpnhoa.org.