City Launches Interim Building, Permitting and Inspection Services Department
June 1, 2008
/
/
Comments Off

on City Launches Interim Building, Permitting and Inspection Services Department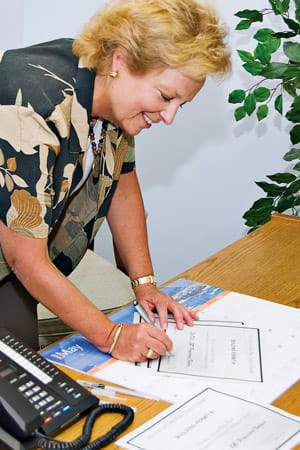 Mayor Maureen Shul (left) presents the city's first building permit to Eric Dille and Greg Bickelhaupt (right) of B&D Professional Builders on May 21. The interim Building Permitting and Inspection Services department for the new city is located at the Castle Pines Executive Suites, 7437 Village Square Lane, Suite 210, Monday-Friday, 8 a.m. to 4:30 p.m. Call 303-785-6515 or e-mail Contact by email for more information. (photo by Tim Gamble)

by Lane Roberts
Building a deck or finishing a basement? Not sure where to go for help now that Castle Pines North (CPN) is a new city? In order to ensure that the needs for planning and zoning permits by both homeowners and developers are met in CPN, the City Council has approved the appointment of CH2M Hill as interim city planner.
CPN residents and contractors desiring planning permission and building permits can no longer use the services of Douglas County. All functions have been transferred to the City and will be administered by CH2M Hill during this interim period.
The City adopted Douglas County's zoning, building, and construction codes with minor modifications. The cost for permits and services in the new city was set the same as prior county guidelines.
"The objective of these moves was to put an interim set of codes in place that minimized disruptions from the transition to the new City," said CPN Treasurer Doug Gilbert. "The codes are being reviewed and more modern codes will be put in place in the near future, an effort that is also proceeding within Douglas County."
CH2M Hill has opened an interim Building Permitting and Inspection Service department at the Castle Pines Executive Suites, 7437 Village Square Lane, Suite 210. The office is open Monday-Friday, from 8 a.m. to 4:30 p.m. Call 303-785-6515 or e-mail cpncommunitydevelopment@ch2m.com for more information. Typical projects that require a building permit include: new residential and commercial construction, residential additions and remodels, basement finishes, and pools, decks and spas.
On Wednesday, May 21, Mayor Maureen Shul presented the city's first building permit to representatives from B&D Professional Builders. (see photo below) The firm is remodeling a local office.
The performance of CH2M Hill as interim city planner is monitored weekly by City representatives. Any feedback regarding the quality of service should be sent to Contact by email .