June 1, 2008
/
/
Comments Off

on A Note from Mayor Shul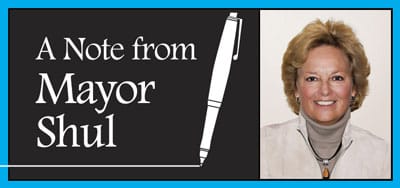 Dear City of Castle Pines North Citizens,
Since being sworn in March 10, your elected officials have been hard at work. Because of the volume of work in establishing our new city, we have been conducting Council meetings every week to ensure new city business is addressed as expeditiously as possible.
To date the Council has passed Resolutions organizing the city government as well as appointing a zoning commission.
An Ordinance was passed that adopts Douglas County's Land Use Regulations on an interim basis. The Council also voted to approve the Sales and Use Tax (that residents approved in November, 2007).
The Council, after a formal RFP (Request for Proposal) process, appointed Icenogle, Norton, Smith, Blieszner, Gilda, & Pogue as city attorney. The RFP process is currently underway for a city manager as well as city banking services.
Task Forces and Committees have been established in the areas of safety, HOA services consolidation, utilities, economic development, law enforcement, and transparency and financial accounting. We are extremely grateful to our citizen volunteers volunteering their time to serve on these committees.
Just as it was during the incorporation effort, it will be the involvement of CPN citizens that keeps our city strong and on the right track. I invite and encourage you to attend a City Council meeting, get to know your ward representatives, and volunteer for one of our committees if you are able to.
Every one's voice is important, and every one's involvement is welcome.
I look forward to talking to as many of you as possible in the weeks and months ahead to hear your input. Whether it is at a meeting or at our upcoming July Independence Day Celebration, hearing what you have to say is vitally important as we move forward in establishing our new City.
For Our City,