Colorado principals share leadership principles
October 1, 2017
/
/
Comments Off

on Colorado principals share leadership principles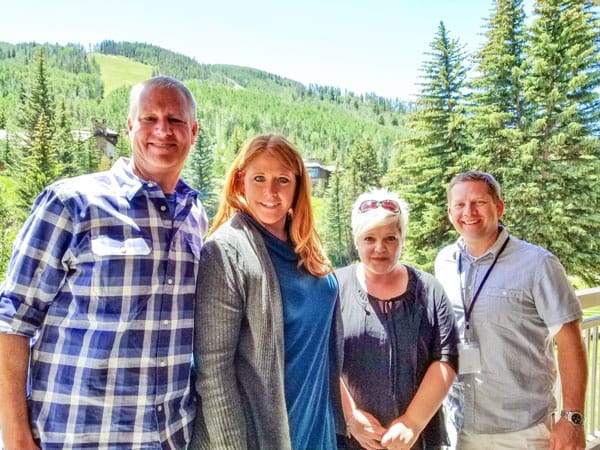 The four DCSD principals who attended the Tointon Institute for Educational Change in Vail, left to right: Steve Getchell from Copper Mesa Elementary, Erin Carlson from South Ridge Elementary, Jennifer Malouff from Saddle Ranch Elementary and John Veit from Buffalo Ridge Elementary.
By Kathy Fallert; photo courtesy of Janet Alcorn
Principal John Veit of Buffalo Ridge Elementary (BRE), along with 39 other principals from around the state of Colorado, attended the Tointon Institute for Change's Principal Leadership Academy in Vail from June 26 through 30. Only those principals who were nominated from their superintendent or a colleague were considered for admittance.
Veit began his educational career in 1998 when he was hired directly out of college by the Douglas County School District (DCSD). During the past 18 years, Veit taught at Fox Creek Elementary School, Castle Rock Middle School, and as the assistant principal at Rocky Heights Middle School, where he worked for the three years prior to coming to BRE as principal in 2014.
The Tointon Institute for Educational Change has been providing leadership training to kindergarten- through 12th-grade administrators throughout the state of Colorado since 1995. A gift to the University of Northern Colorado (UNC) from Bob and Betty Tointon of Greeley, Colorado helps to fund this program, which has a goal to increase the effectiveness of school leaders so that overall student achievement will be increased.
During the five-day intensive program, participants were exposed to a variety of leadership practices and principles that are research-based and have been shown to positively affect student achievement as well as contribute to the retention of quality teachers and leaders. Team building and leadership activities, along with some downtime to go hiking and fishing together, allowed for bridges to be formed and like-minded collaboration to take place.
"A lot of what makes Tointon special is the connections that are able to be made among the administrators," Veit remarked, "Being the principal can be a lonely place. Making interpersonal connections with other principals in the system is invaluable, as is learning about challenges that affect different leaders in different circumstances – such as the challenges of a 5A school in Denver versus a rural school in the mountains."
Edward R. Murro back in the 1950s had a radio series called "This I believe." One of the challenges was for the principals to all create and share their own This I believe statement. Veit did just that at his first day back to school last month. He shared his homemade breakfast burritos as well as his This I believe statement with the staff, then shared it again with the parents at Back to School Night on August 29.
"I believe every experience is a learning experience, even the negative ones – whether we like it or not," Veit wrote. "There are things I am still learning from decisions I made or experiences I endured years ago. Those are often the most powerful. I believe student success is what it is all about. That is our goal, that is what all of us are here to do; to support students reaching their full potential."
Veit commented about the Tointon Institute, "It was an extremely energizing and humbling experience. There are many great principals throughout Colorado, and it was an honor to work side by side with them for the week. I hope the people around Buffalo Ridge feel encouraged, feel honored and feel we have a school making a difference for our kids now and in the future."