Commemorating the Bill of Rights while preserving our history
February 1, 2017
/
/
Comments Off

on Commemorating the Bill of Rights while preserving our history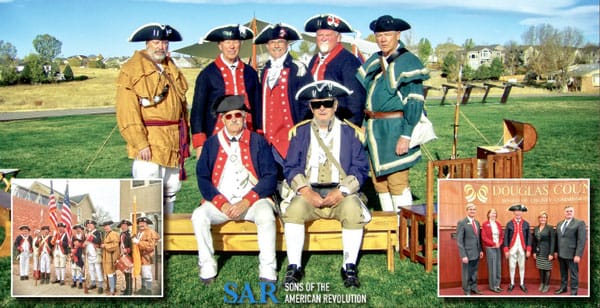 Preserving American history is a priority for Sons of the American Revolution (SAR) and Daughters of the American Revolution (DAR). SAR held a Revolutionary period camp for two days at Cresthill Middle School in Highlands Ranch last fall (pictured above), and they joined DAR last month at the Douglas County Commissioners meeting where they presented a proclamation commemorating the 225th anniversary of the Bill of Rights (right inset).

By Kathy Fallert; courtesy photos
On December 13, the Douglas County Commissioners meeting included the presentation of a proclamation commemorating the 225th anniversary of the Bill of Rights. The proclamation was sponsored by Castle Pines resident Bob Easterly, president of Mount Evans chapter of Sons of the American Revolution (SAR) and Castle Pines Village resident Monica Flinner-Ross, Castle Rock chapter regent of Daughters of the American Revolution (DAR). Douglas County Commissioners Roger Partridge, Jill Repella and David Weaver graciously approved the proclamation after Easterly read it to the audience.
SAR and DAR members come from a variety of backgrounds but all share a common bond of having an ancestor who helped contribute to securing the independence of the United States of America.
Easterly (pictured center in right inset photo) became involved in SAR about 15 years ago after encouragement from a dear aunt who was a member of DAR in Gunnison, Colorado. The aunt recounted a story about her grandfather, Easterly's great grandfather, who had served in the Civil War at the surprisingly young age of eight as a fifer (which was a non-combatant military foot soldier who played the fife during combat).
Easterly became so intrigued with this story that he did some digging into his family history and was able to confirm 14 patriots from the American Revolution in his lineage. Easterly went on to write a book about his great grandfather entitled "By an Act of Congress," which is available at several local libraries. Easterly reflected about his involvement with SAR, "I believe it is vitally important that we not lose sight of our history since there's not much of it that's taught in schools anymore. Our responsibility with Sons of the American Revolution and similar organizations is to preserve that history for our future generations."
Monica Flinner-Ross (pictured second from left in right inset photo) became acquainted with DAR through a distant cousin and is now a 25-year member. Flinner-Ross enjoys having a common interest in family history and genealogy, making good friends, and the community service involvement that DAR provides.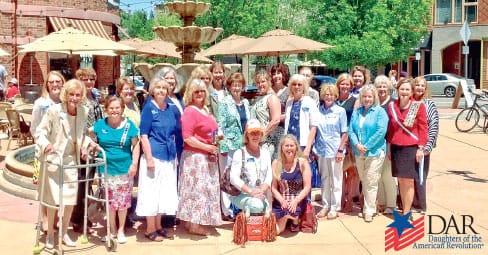 DAR enjoys having fun and getting out for a nice luncheon occasionally. This luncheon was a special celebration of the Castle Rock chapter's one-year anniversary last June at Siena at the Courtyard in Castle Rock.
"The Castle Rock DAR is a very new chapter and was organized in June of 2015," said Flinner-Ross. "We follow the DAR mission of promoting historic preservation, education and patriotism. The patriotism aspect includes community service, which we stay very involved with. We support the Douglas/Elbert Task Force, the Crisis Center, the Senior Activity Center, the Buddy Center, and others as well. We are always interested in supporting groups that make our community an even better place."
Mother of three and grandmother of four, Flinner-Ross continued, "Members of DAR just like to have fun, to learn and to help others. We are also interested in joining up with other like-minded organizations such as the Rotary who care about historic preservation, our soldiers, and helping our community. One reason I became involved in DAR is that I don't have valuable paintings or jewelry to pass on to my kids. But I can pass on our family history and information about our ancestors." Flinner-Ross has eight proven patriots in her lineage. DAR offers quarterly application workshops and has several volunteer genealogists who can help look up lineage.
As for the Bill of Rights history, on September 25, 1789, the first Congress of the United States adopted 12 amendments to the U.S. Constitution and sent them to the states for ratification. The amendments, known as the Bill of Rights, were designed to protect the basic rights of U.S. citizens, guaranteeing freedom of speech, press, assembly, and exercise of religion; the right to fair legal procedure and to bear arms; and that powers not delegated to the federal government be reserved for the states and the people. The Bill of Rights was influenced by the English Bill of Rights of 1689. In December 1791, Virginia became the 10th of 14 states to approve 10 of the 12 amendments, thus ratifying the Bill of Rights by a two-thirds majority of states needed.
To learn more about SAR or DAR, visit www.sar.org and www.dar.org.