Community celebrates a life; mourns a loss
October 1, 2011
/
/
Comments Off

on Community celebrates a life; mourns a loss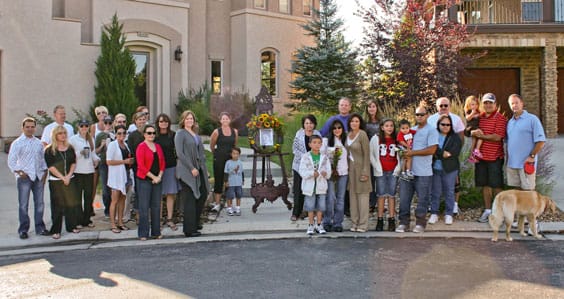 "He was not just an Eagle Waste trash collector, he was part of our community. Everyone in this neighborhood knew him in some way, and he will truly be missed." Neighbors, family and friends gathered in the Daniels Gate community to celebrate the life of service provider Brian Rojas. Rojas will be remembered as a dedicated husband, father, grandfather, brother, and friend
Article and photos by Kathy Dunker
"He always had a smile for everyone; he never complained; he touched everyone's lives around him." These were just a few of the tributes made by Ventana and Amber Ridge residents in memory of Eagle Waste trash collector, Brian David Rojas. Rojas was on his usual rounds with a new trainee when he was involved in a tragic accident on Daniels Gate Road, which ultimately took his life on September 3. Rojas, just about to celebrate his 41st birthday, was the father of nine children as well as two grandchildren.
Ventana and Amber Ridge neighbors came together on their following trash day, September 9, in the Daniels Gate Road cul-de-sac to honor and celebrate the life of Rojas, who had come to mean much more to them than just a service provider.
Joined by Rojas's wife Deanna, three of his children – Bianca 11, Mathew 9, and Noah 2 – and members of his extended family, Daniels Gate neighbors gathered around to share memories, give hugs, and shed some tears for the beloved Rojas. Rojas did more than simply collect the trash; he cared about everyone around him.
It was quite an emotional scene in Ventana and Amber Ridge that morning. Trash cans were all adorned with flowers and yellow ribbons and even some with warm written sentiments about the lost community member. Yellow ribbons and wreaths were on the Ventana gate, as well as a wreath with a memorial photo of Rojas at the accident scene in the front yard of Jon and Yolande Dahl.
Always going above and beyond, Rojas was known to ring the doorbell for anyone who had forgotten to take their trash out, walk up the driveway to hand carry any last minute trash bags out to the truck, and he always gave a smile and a wave to youngsters who were excited to see the big truck. Rojas truly loved his job. As his wife Deanna reflected, "It wasn't about the trash; he didn't care about that. It was the people he ran into while he was working that meant so much to him."
Neighbor Gwen Watkins remembered that she had some difficulty with her trash can one day. From that day on, Rojas would always return her trash can to the side of her house. Gwen said, "It was just above and beyond what he was expected to do."
Eagle Waste Manager Curtis Hill also stopped by for the impromptu memorial and remarked, "This is an awesome outpouring of love from the community." Father-in-law, Harold Leyba, said, "If all communities came together like this, it would be a much better world."
On the day of the accident, the trash truck had driven partially into the Dahl's front yard where the truck was stopped by a decorative boulder. A piece of the yard remained damaged from the incident. Deanna Rojas commented to the Dahl's, "He would have been out here that night fixing your yard if he could have. You know that right? He would have called me to say he would be getting home late because he had something he needed to do." That's just the kind of caring man that Rojas was.
The Dahl's began a collection to help the Rojas family. So far close to $11,000 has been collected to assist the family through this very difficult time. Donations for the Rojas' can be made directly at Bellco Credit Union, 10058 Progress Way, Littleton or by contacting Yolande Dahl at (720) 231-5315.