Congratulations to our neighborhood Apple Award Nominees!
February 1, 2011
/
/
Comments Off

on Congratulations to our neighborhood Apple Award Nominees!

Articles and photos by The Castle Pines Connection staff, courtesy photos
The Douglas County Educational Foundation will present its Apple Awards on March 5 at an event designed to honor the finest educators in the county, while also raising money to support school programs. After the Foundation reviewed 5,300 nominations submitted by students, staff and community members, 78 nominees are now in the running for the final award.
Each teacher brings his or her own unique and inspirational style to the classroom, but all have a love for teaching and for students. On the following two pages, you'll find the nominees from schools in the Castle Pines community; each exemplifies the best our schools have to offer.
American Academy Charter – Michelle Daley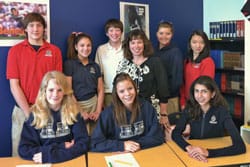 Michelle Daley, middle school English teacher at American Academy (AA), has been teaching for nine years. She holds a Bachelor of Arts in an Interdivisional major, which consists of education, psychology, sociology and religious studies. Daley is certified to teach K through sixth grades as a general educator and recently became endorsed to teach English in grades 7 through 12.
With the use of ability grouping at AA, Daley finds it to be in line with her own personal beliefs about how effective teaching should be done. Daley states, "I love having the opportunity to teach in small groups and challenge every student on his or her own individual level."
As for her nomination, Daley commented, "I am proud, motivated, and humbled. It not only reminds me of the positive things I have accomplished, but it also challenges me to keep improving in my teaching."
Daley concluded by saying, "Teaching children to think critically and inspiring them to learn is all a part of the journey. When I can see my students applying their skills across the curriculum, I know I've been successful."
Buffalo Ridge Elementary – Felicia Phelan

Felicia Phelan has been teaching for five and a half years, all at Buffalo Ridge Elementary (BRE) and all in the fifth grade. Phelan approaches teaching by establishing relationships with her students and creating a positive learning atmosphere that promotes mutual respect and trust.
"I want students to be able to think for themselves by encouraging problem solving and for them to ask questions about their learning. An inquisitive mind brings life-long returns," said Phelan.
"Mrs. Phelan was the best teacher I ever had. She helped me in many of my most difficult subjects and I'm a better student because of her," said Marley Wackerly, former student of Phelan.
In a classroom with many levels of ability and learning differences, Phelan tailors her lessons to the individual learning styles she finds in her classroom. She plans her days to include extra study sessions for tests, extensions for enrichment, math clubs for concept practice and book clubs to enhance reading strategies.
Phelan received a bachelor's degree in psychology from the University of Northern Colorado and a master's degree in elementary education from the University of Phoenix.
DCS Montessori – Michael Catalano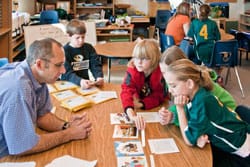 Teaching is a second career for Michael Catalano, who spent 15 years in the business world before becoming a teacher nearly 10 years ago. He is currently an upper elementary teacher at DCS Montessori, working in a multi-age classroom of fourth, fifth and sixth graders. His position has afforded him various opportunities ranging from directing Shakespearean plays to teaching robotics to coaching the school's "Brain Bowl" team.
"I love watching the students learn and grow," said Catalano. "My students have so much curiosity about the world around them. It is a joy to experience this with them."
Catalano sees his role as an educator as someone who can support and foster an environment where students thrive and grow. "I am very honored to even be on the list of nominees. I also know the honor isn't just about me. The success is shared by families, students and the culture of our school."
Rock Canyon High School – Tony Koy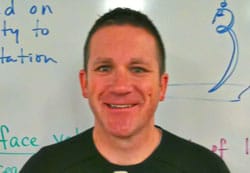 Tony Koy has been a dedicated instructor for the past 15 years. Koy spent his first 10 years of teaching in North Carolina with the most recent five years at Rock Canyon High School (RCHS).
With a degree in secondary math education from North Carolina State and a master's in curriculum and instruction from the University of Phoenix, Koy currently teaches A.P. calculus BC, geometry, and math of money at RCHS.
Koy enjoys working with kids and building relationships with them, showing that he cares about them not just as students but as people as well. Of his nomination, Koy said, "I was extremely honored to simply be nominated, and was even more honored to be voted by the faculty to represent Rock Canyon."
Rocky Heights Middle School – Tim Ryckman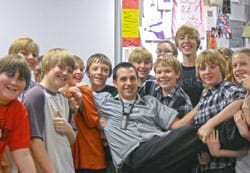 Tim Ryckman is a sixth grade math and science teacher at Rocky Heights Middle School (RHMS). Ryckman, who holds a teaching certificate for grades K-6 and a master's degree in curriculum and instruction, is in his thirteenth year of teaching.
"By far, my favorite aspect of teaching is the great privilege of being present when students make a connection," said Ryckman. "To actually see the light turn on is a miracle and I get to witness that – and maybe even play a small part in bringing that moment about for my kids – every day!" Ryckman found the nomination to be a great honor because, "It came from the most important people in education; my fellow teachers, the parents, and most importantly the students."
Ryckman finds the greatest measure of his teaching success is when students return several years later to tell him how important his class was to their success in seventh grade and beyond. Ryckman commented, "If I helped play a role in putting them in a position to do great things, then I have succeeded as a
teacher."
Timber Trail Elementary – Sara Haynes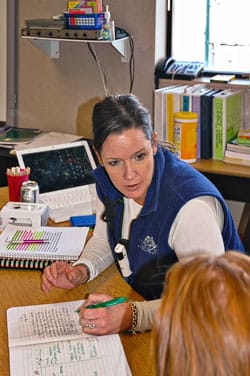 Timber Trail Elementary's (TTE) Sara Haynes is an educator with 18 years of experience teaching kindergarten and first, third and fourth grades.
"Sara is a veteran teacher who is very dedicated to her students," said TTE principle Michelle Radke. "She motivates and stretches their thinking each and every day."
Haynes said she was flattered and exited to hear of her nomination.
"I immediately called my mother in Oklahoma, who called my father and interrupted his school board meeting," said Haynes. "In the middle of a vote, my father let everyone in attendance know that his daughter was 'Teacher of the Year.' No matter how old we are, our parents do love to exaggerate the level of our accomplishments! However, the message to me was clear; my parents were proud of me."
"I get to go to work each day, do what I love, what I was meant to do. I am surrounded by people who inspire, encourage, and believe in me," said Haynes.