CPN Metro District Celebrates Ground Breaking of Rueter-Hess Reservoir Expansion
October 1, 2008
/
/
Comments Off

on CPN Metro District Celebrates Ground Breaking of Rueter-Hess Reservoir Expansion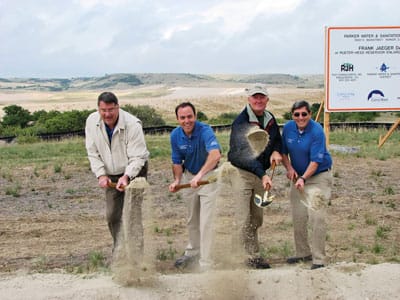 Metro District Manager James McGrady (far left) joins District board members Bill Santos, Ted Lohr and Bruce Thompson (left to right) at the Rueter-Hess Reservoir expansion groundbreaking ceremony on September 5, 2008. (photo by Terri Wiebold)

by Terri Wiebold
Friday, September 5, 2008 marked a historic event for the Castle Pines North (CPN) Metropolitan District. While some are calling this a drop in the proverbial bucket toward the quest for securing renewable water, others are equating this to the purchase of the bucket itself.
The Metro District finalized its agreement to purchase 1,500 acre-feet of storage space (nearly 489 million gallons) in the Rueter-Hess Reservoir in August, and representatives joined with partners from the Parker Water and Sanitation District, the town of Castle Rock, and the Stonegate Metropolitan District for the groundbreaking of the reservoir expansion on September 5.
Rueter-Hess is the first major step in providing renewable water to the Castle Pines North community. The reservoir, located in southwest Parker, has a diversion structure on Chery Creek to capture available water flows, and it will supply excess water storage in the event of a water delivery interruption or drought.
According Bill Santos, president of the CPN Metro District board of directors, a storage solution like Rueter-Hess is a critical piece of the renewable water solution. "Normally, our relatively small size puts us in a weak negotiating position," he said, "but our partnership with other local entities has really created the perfect situation – the ability to negotiate competitively for an important piece of our renewable water solution."
The expanded 72,000 acre-foot reservoir will have a surface size of 1,140 acres – 50 percent larger than the Cherry Creek Reservoir and will have capacity to hold more than 23 billion gallons of water. Construction is expected to take two to three years to complete before filling can begin.
"This piece of key infrastructure firmly establishes Castle Pines North Metropolitan District's commitment to bring renewable water to this community," said James McGrady, Metro District general manager. The price tag for the purchase was $8.25 million, which the District is funding through Certificate of Participation bonds.
The next steps in the Rueter-Hess project for CPN will be to purchase adequate water rights to fill its portion of the reservoir and to build the underground pipelines necessary to deliver the water. According to McGrady, this will include completion of the Interconnect Pipeline between Centennial and Castle Rock, acquisition of water rights, the completion of an environmental impact study for Chatfield Reservoir storage, and adjudication of water rights on Plum Creek. McGrady hopes these pieces will be in place by early 2010.