Craft beer drinkers are all hopped-up in Douglas County
June 1, 2015
/
/
Comments Off

on Craft beer drinkers are all hopped-up in Douglas County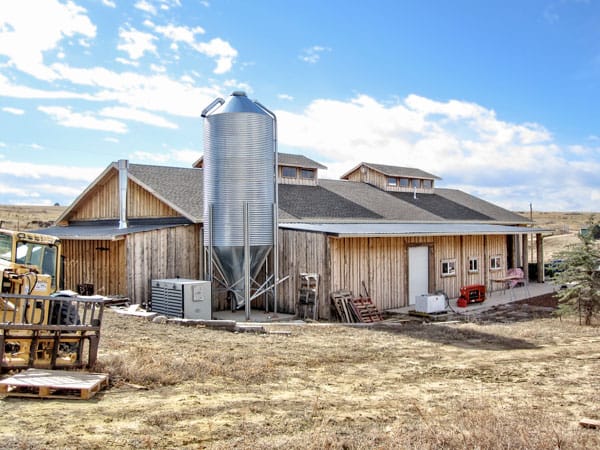 Hall's hand-milled, re-purposed wood brewhouse east of Parker on a seven-acre homestead where Aubrey Hall also lives.

By Joe Gschwendtner; photo courtesy of Hall Brewing Co.
Craft beers, meaning those that emphasize quality, flavor, and small batch brewing techniques, are a marvelous industry success story. Douglas County is fertile ground and today home to eight microbrewers.
Thirty-five years ago there were only 41 independent breweries in the country. Taste differences among brands were barely discernible and choices, utterly boring. Change began when a growing drumbeat of affluent drinkers demanded more taste and selection for discriminating palates.
Early needs were self-satisfied with home-brewing. Beer artisans sprouted up everywhere. Some saw a business opportunity. Only the best survived and failures were legion. That was yesterday. Today the U.S. boasts 3,418 microbrewers whose suds collectively satisfy the needs of 20 percent of all beer drinkers.
In Douglas County, four microbrewers slake our thirst: Rockyard Brewing in Castle Rock, Hall Brewing and Elk Mountain Brewing in Parker, and Lone Tree Brewing. A fifth one, Barnett and Son, also in Parker, is having its grand-opening on June 5. Highlands Ranch is home to three other breweries: Grist, Three Freaks, and C.B. & Potts, a chain.
There are two distributional reasons for the robust growth of small batch brewers: expanding shelf space in grocery and liquor stores, and availability of their product on tap in dining and drinking establishments. Canvass your local gathering places and you'll see craft brews featured prominently on their menus. At Crowfoot Valley Coffee, Maddie's Biergarten, the Fowl Line, Duke's Steakhouse, and Parry's Pizzeria among others, craft beer has become an essential component to their ambiance and profitability.
Brewpubs are rapidly giving way to tap rooms. Rather than opening a brewpub and incurring the business risk of managing both restaurant and a brewery, tap rooms are today's new beer halls. Under this concept, the brewer features his beer in his venue with eclectic cuisine. But food fare is provided by outside sources like food trucks, caterers, nearby restaurants, and pizzerias. BYO foods are also encouraged.
To remain fresh and viable, small brewers must set themselves apart. Aubrey and Sue Hall of Hall Brewing in Parker tout sustainable brewing methods. Their brewhouse was constructed of all beetle-kill, hand-milled timber. Only pure spring water is used and other ingredients are sourced locally. Session brews are also featured – those milder in flavor and lower alcohol by volume – making for more responsible drinking.
Established in 1999, the Rockyard Brewing Company in Castle Rock is committed to a farm-to-table cycle process, emphasizing fresh local content. These days Greg Fetzer, Rockyard's head brewer, tinkers with barrel-aged brews yielding lighter and dryer content, working to satisfy interest for craft beer lovers and newcomers alike. General Manager Laird Mulderink prefers going to the market instead of the market coming to Rockyard.
Would you believe that 11.7 gallons of craft beer are downed yearly in Colorado per capita? Absolutely true! This is indeed the golden age of beer. Don't be left behind.