Creative learning at Sky View Farm
September 1, 2018
/
/
Comments Off

on Creative learning at Sky View Farm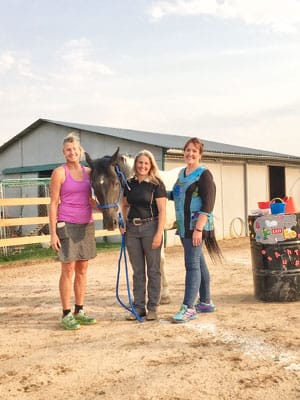 Multi-sensory teaching is key to the learning experience at Sky View Farm. Pictured left to right are owner and founder Wendy Ingraham, Sparky, program director Heather Cotterman and tutor Peggy Henniger.
Article and photo by Daniel Williams; photo courtesy of Heather Cotterman
At an event in August to celebrate the opening of Sky View Farm Center for Learning and Therapy, owner and founder Wendy Ingraham got emotional when talking about the program, and for good reason. Ingraham had spent the past year following a dream of offering equine-assisted language development programs to children with learning disabilities.
As she began her speech, Ingraham looked over the crowd, finding the smiling faces of parents interested in the program, the team that helped pull it all together, Castle Pines Mayor Tera Radloff, and the children – children with dyslexia and other learning disabilities who struggle in traditional educational settings, children who have a better chance, according to Ingraham, to learn with the help of horses.
Horse learning
The program is based on science that looks at the way riding horses can rewire the brain to set it up for learning. Heather Cotterman, who is the program director, told me that learning at Sky View Farm is a multi-sensory experience. "Many kids learn best by hearing, seeing, doing."
Kinesiology, the study of human or non-human body movement, plays a key role in the learning process, according to Cotterman, who along with Elaine Marion, are PATH (Professional Association of Therapeutic Horsemanship) International certified therapeutic instructors and equine specialists in mental health and learning. "Research on how horse therapy affects kids is minimal," Cotterman said. "But we have been working with Nina Ekholm Fry (director of equine programs) at the University of Denver to get more data."
The team at Sky View Farm, which is located east of I-25 off Happy Canyon Road, has also studied dance, movement and rhythm to look at the different ways horse riding can stimulate the sympathetic nervous system and prime students' brains for learning.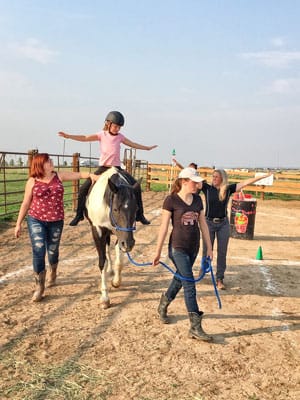 Each training session at Sky View Farm begins with a relaxation exercise that helps the rider become more present and also helps them form a connection with the horse.

Sparky
After Ingraham's speech at the opening ceremony, attendees met Sparky, one of the horses at the farm. Then, Cotterman and special ed teacher Peggy Henniger, along with another member of the Sky View Farm team, selected a student to ride Sparky for a demonstration. In the corral, the letter "e" was spelled in the dirt, and they began their learning session by following the path as the student pronounced the letter.
"This brings the learning together in a concrete way," Cotterman said. "It really cements the memory of the word through the physical action." It also helps form a relationship between the rider and the horse. "That begins when the student first meets the horse and they get to know one another."
As Cotterman explained, horses are very attuned to riders; they can sense emotions, so each session begins with something that resembles horse yoga – with the rider stretching arms out wide like the wings of an airplane and then bringing them overhead in a more traditional yoga posture. "It's a relaxation exercise," Cotterman said. "It helps the rider become more present in what they're doing and also helps form a connection with the horse."
A dream realized
Being connected to your surroundings and the educational material is a key part of the learning process, according to Ingraham. As she told the group gathered for the opening of Sky View Farm, "I always had this dream of kids going to a farm to learn, of being in a classroom and then being outside and gardening and working with horses and getting exercise all in a natural setting." It just goes to show that some dreams do come true.