Daniels Park Entrance Project – City Landscape Plans Underway
December 1, 2008
/
/
Comments Off

on Daniels Park Entrance Project – City Landscape Plans Underway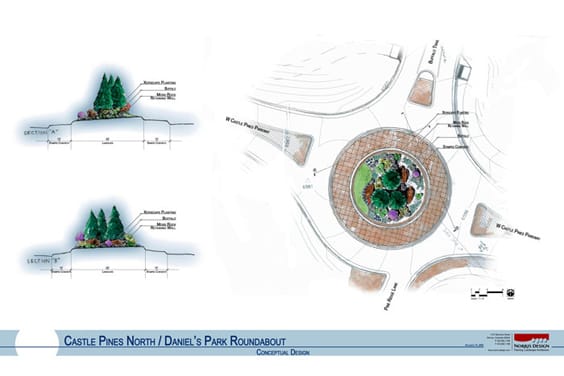 by Terri Wiebold
Expanding upon a collaborative process that began more than five years ago with Douglas County and Denver Parks, the City of Castle Pines North (CPN) Landscape Committee is teaming up with the CPN Metro District and the City's environmental task force "CP Green" to make the new entrance into the city from Daniels Park Road fabulous.
"The Daniels Park entrance is a unique opportunity to showcase an environmentally green, Xeriscaped project with a planned vision," said CPN councilperson and committee liaison Kim Hoffman. "The entrance will be a warm transition and demonstrate that preserving natural resources and spectacular native landscape will be a priority in Castle Pines North," she said.
The CPN Landscape Committee is focusing on water conservation, natural landscaping, solar energy, and education as key components in this project. This high-visibility entrance provides the perfect opportunity to showcase green practices, and CP Green selected the City Daniels Park Entrance Project as its first community green undertaking.
"We want the first impression people have when entering the city to be something that we can be proud of," said CP Green Chairman Ryan Parker. We want to do something that balances what the people want with what works well with the area; something special."
Parker said one of the main focuses will be solar energy in the round about island, so that there will be no light pollution to neighboring communities. Long-range plans include "environmental art and sculptures that embody the history of the area and capture what it means to live in Castle Pines North," according to Parker.
Funding for the project, which involves providing irrigation and landscaping for the center island of the round about, as well as future landscaping of the corners of the intersection will be the biggest challenge.
The CPN Metro District Community Master Landscape Plan has allocated approximately $67,000 to landscaping the entrance. According to the CPN Metro District Manager James McGrady, the District already has sewer and water lines under ground where the round about will be located, and funds have been allocated in the 2009 budget for the project.
Additional funding for landscaping will involve potential future fundraising efforts and grant applications. "The project combines the cultural heritage of Denver Mountain Parks, the engineering and infrastructure of Douglas County, and the water wise principles of the Metro District," said Hoffman. This will aid the City in pursuing grant opportunities that will move this from concept to completion.
With the leadership of CPN resident Barb Saenger and additional community volunteers, this project has the potential to be functional and beautiful as an entrance into the city.
Additional volunteers are needed to help with landscape design and grant applications. To volunteer to serve on the City Landscape Committee, please contact Kim Hoffman at Contact by email . To learn more about CP Green, contact Ryan Parker at Contact by email or 303-987-9118.