DCS Montessori fifth graders honor veterans
December 1, 2010
/
/
Comments Off

on DCS Montessori fifth graders honor veterans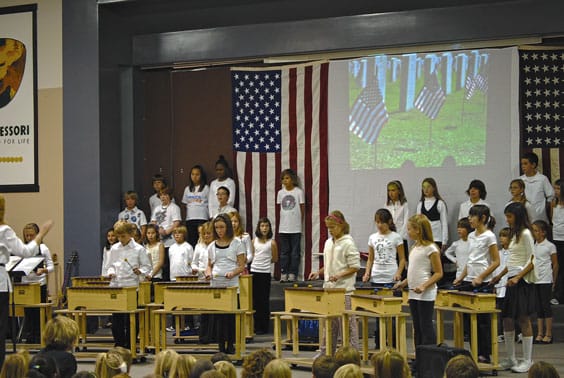 DCS Montessori students perform at a special patriotic concert in honor of our country's veterans.
Article by Tracy Dudley with photo provided by DCS Montessori
While visiting with good friend and war veteran Scott Shires LTC USAR Retired, DCS Montessori music teacher Lorraine Cooper had a brainstorm. What if a group of students at the school created a special concert to honor all veterans, even featuring some from our local community?
After a lot of practice and the help of some volunteer music students from Castle View High School, a group of fifth grade students from DCS Montessori created a very special Veteran's Day concert.
On Thursday evening, November 11th, Shires and several student speakers gave a fantastic introduction, then the entire group performed patriotic pieces including "The Star Spangled Banner," "When Johnny Comes Marching Home," "This Land is Your Land," and "God Bless the USA."
All of the practices and hard work paid off, and the audience was completely absorbed. Students supported the program by playing a variety of instruments including chimes, guitar, tonebars, xylophones, and the timpani.
In addition to a beautiful visual, auditory, and emotional experience, the concert was a great educational opportunity for students and audience alike. DCS Montessori teacher, Glenn Albert, displayed two American "Flags of our Fathers," which had belonged to his grandfather, uncle and father—each of whom served our country in the US Navy.
"My grandfather was in the Navy band in Chicago during World War I. His flag, sewn in 1954, has only 48 stars, as Alaska and Hawaii were not yet states," said Albert. "My uncle served in World War II on an ammunition ship in the South Pacific, and my father was a Naval petty officer on the flagship of the North Atlantic Fleet. These three men were everyday Americans serving their country. My uncle and father went on to teach and greatly influenced my career choice to teach as well."
From the early planning stages to the final performance, it was the students' goal to honor and thank all veterans and military personnel currently serving our country, especially those within our Castle Pines community. The program participants were absolutely honored to have several veterans attend the performance, many of whom were in uniform.