DCS Montessori flash mob is "Happy" for departing librarian
June 1, 2014
/
/
Comments Off

on DCS Montessori flash mob is "Happy" for departing librarian
Cindy Walsworth, a library staffer at DCS Montessori is honored by students at the school on the occasion of her retirement. Walsworth worked at the school for 14 years.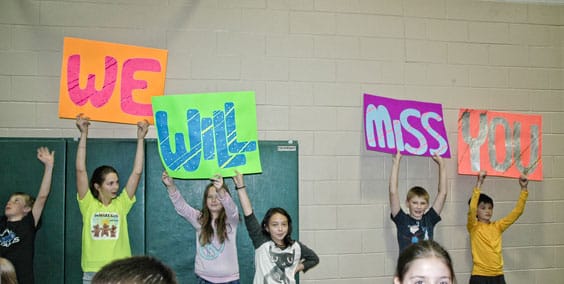 Article and photos by Lisa Crockett
When students in the library at DCS Montessori School seemed to spontaneously break into dancing to Pharrell Williams' popular song "Happy," library staffer Cindy Walsworth didn't quite know what to make of it. After 25 years working for the Douglas County School District – 14 of which have been at DCS Montessori – she thought she had seen it all.
"For a minute, I was thinking that I needed to have a conversation with the teacher about inappropriate behavior!" said Walsworth.
Her bewilderment soon turned to happiness though, as the dancing students grabbed her hand and led her to the school's gym where 350 students joined the dance in a flash mob as a way to thank Walsworth – known at school as "Ms. Cindy" – for her years of service. Walsworth retired last month when school ended.
"We wanted to honor her and let her know how much we will miss her," said 13-year-old Gabby Flocco, a student at DCS Montessori Middle School. "We wanted a way for the whole school to participate. We're really happy with how it turned out." Flocco, who has been a student at the school since kindergarten, said it will seem strange to come to the library without Walsworth behind the desk.
Walsworth is looking forward to moving to Erie in her retirement and spending more time with her grandchildren who live there, but said she will miss the students she has come to know and love.
"I have loved to see the excitement of these kids and to help foster their love of reading," said Walsworth. "I was really surprised and touched by the dance. It was just perfect."
The flash mob was orchestrated by the school's librarian Holly Morgan, who has worked shoulder-to-shoulder with Walsworth since 2012.
"Cindy has given so much and it was great to think of a way to honor her," said Morgan. "I think this was a great way to teach the kids that giving to others – not just getting – feels good."