Designer bags in Castle Pines, one crystal at a time
July 1, 2015
/
/
Comments Off

on Designer bags in Castle Pines, one crystal at a time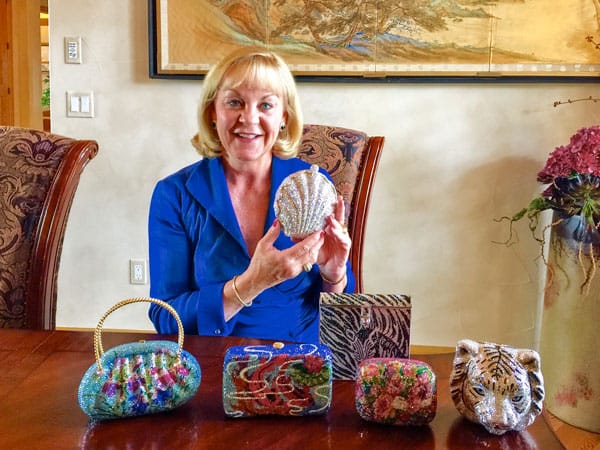 Janice Wright makes each of her evening bags and accessories by hand by placing thousands of crystals with a toothpick. Each design is custom made and unique.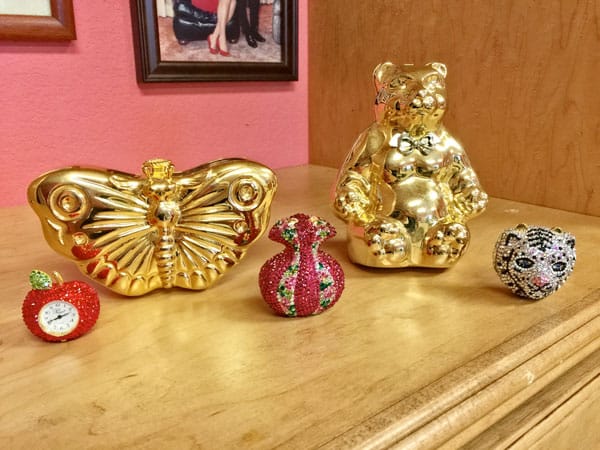 Wright begins with an imported metal form which she turns into exquisite works of art. In addition to evening bags, Wright enjoys making clocks, pill boxes and numerous other items.


By Rachel Zetwick, RCHS intern writer; photos by Amy Shanahan
Janice Teply Wright, the founder of the Wright Collection, is growing her evening bag business to Castle Pines. Wright and her husband, Chatt Wright, have lived in Castle Pines Village for two years and she looks forward to sharing her talents with the community.
Wright's bags are not just regular evening bags. Each bag is encrusted with anywhere from 6,000 to 10,000 Swarovski crystals from Austria. Wright places each crystal on the bags by hand with a toothpick. Recently, a bag sold for $3,100 at a charity event.
Inspired by Fabergé eggs, Wright began making her bags about 20 years ago. "All of my designs are unique and original," said Wright. She experimented by making the bags from Styrofoam, beads, sequins, and wood and eventually made her first bag from an ostrich egg. Wright has made many bags from eggshells, and each product is a custom design she creates for each individual client. Clients may make specific requests regarding the color, shape, and design of their bags. Wright highlighted that many women bring a dress when meeting her in order to have their bag match.
In addition to evening bags, Wright uses the same process to make double sided mirrors, pillboxes, lipstick holders, key rings, and miniature clocks. All of these items may be customized to match the needs and wants of the client.
The Wright Collection has been sold in more than 50 stores across the United States. The stores are mainly in Four Seasons locations, including the Regent Beverly Wilshire in Beverly Hills, California; the Lido Beach Shop at the Venetian Hotel in Las Vegas, Nevada; and the Mauna Kea Hotel in Kameuela, Hawaii.
Wright previously had a staff of eight people she trained herself to make the bags, and she would inspect each product after it was completed. "They are beautiful and unique and last many years," Wright said. Women attending the Inaugural Ball have purchased her bags and movie stars have even fallen in love with her products.
Wright and her husband are thoroughly enjoying living in Castle Pines Village and appreciate their new friends, the wildlife, and the beautiful view from their backyard.
Now that Wright is settled in Castle Pines, she hopes to expand her business in Colorado. Wright's products may be purchased at www.wrightcollection.com and a few of her items are for sale at The Emporium in Castle Rock.