Douglas County Schools A Life Line for Special Needs Children
August 1, 2006
/
/
Comments Off

on Douglas County Schools A Life Line for Special Needs Children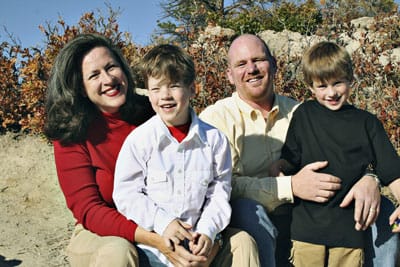 By Carin Kirkegaard
One important milestone in life is the all-important day when one starts down the path of education and attends the first day of kindergarten. For many parents, this day approaches with joy and anxiety. This apprehension is only greater when a family has a child with special needs.
The Abramovitz family of Castle Pines North is experiencing these very emotions as their twins Isaac and Harry head off to kindergarten at Buffalo Ridge Elementary School. At birth, Harry suffered from a brain trauma and Tammy and Michael Abramovitz knew they had a rocky road ahead. Fortunately, Harry had his twin brother Isaac to keep up with.
The twins were attending preschool when they were referred to Child Find in Castle Rock, and Harry was officially put into the "system." It was then that he started to receive the invaluable resources that the Douglas County School District (DCSD) offers children of special needs. Child Find provides free developmental assessments for young children from birth to age five for any child where there may be a question of a developmental delay in the areas of speech, language, behavior, motor skills and learning. The Child Find program is a free resource for parents who live in Douglas County.
One of the components implemented with Harry's current preschool education was additional days of preschool through age four, as well as an Individualized Education Plan (IEP) that focused on Harry's individual educational needs. When the twins turned five, Harry was diagnosed with a non-verbal learning disability. "Having an official diagnosis came as a gift and a curse for us. It's empowering to know what you're up against and to know you have a place to go to get help," said Tammy.
It was help that the family found through the services at DCSD. The district offers a unique program that provides support for preschoolers transitioning into kindergarten. According to Mary Byrd, the Early Intervention Transition Specialist for Harry, "The goal of this program is to ensure that the student's transition into kindergarten is as individualized and comprehensive as possible."
The transition process began with Byrd working closely with Harry and his preschool special education team. Byrd spent time observing Harry in his preschool classroom and then sharing these observations with the special education staff at Buffalo Ridge.
The final step in Harry's transition from preschool to kindergarten occurred when the Abramovitz family met with the entire 17-person transition staff at Buffalo Ridge. Among those present were Harry's kindergarten teacher, school principal, school nurse, school psychologist, social worker, special education director, special education teacher, speech and language therapist and the occupational therapist. Harry was given a tour of his new school and given a book with pictures of all the new places and people he will see when he starts school this fall.
"We are doing what we can do now with the wonderful services that are offered," said Tammy.
To find out more about the support services that DCSD offers visit,
www.1dcsdk12.org/cgi-bin/WebObjects/DCSD.