January 1, 2015
/
/
Comments Off

on Dress to impress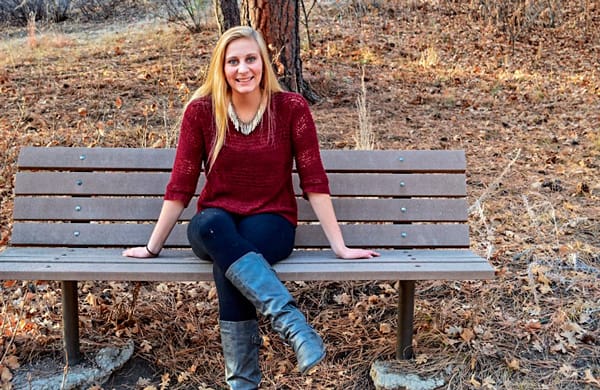 Saskia Seebacher, a RCHS exchange student from Austria, shows a warm winter look. European fashion is slowly but surely pushing its way into the states and Seebacher is one of RCHS's prime fashionistas. "Fashion fades, only style remains." said Seebacher.
Article and photo by Maria Pangalos, RCHS intern writer
The new year is time to be cute, comfy, and cozy. Staying warm yet stylish during Colorado's frigid winter months can be tough, but Rock Canyon High School's (RCHS) fashionistas are here to help you stay fabulous and not freezing.
Peighten Loid, Castle Pines resident and a freshman at RCHS said, "It's really important to accessorize, and with it becoming colder, jackets and scarves are the best way to spice up your outfit, yet it's the perfect way to keep warm as well." Classy cardigans and warm wool scarves are the way to go. Duller colors like maroon, grey, dark green, darker shades of tan, and even black go well with jeans, leggings, and the weather.

Transitioning from short combat boots and Converse, winter calls for things like tall rider boots and, believe it or not, leg warmers. According to Castle Pines resident Skylar Tartz, a sophomore at RCHS, "Boots and warm socks! I can not leave the house without my warm socks. I also see a lot of people wearing leg warmers with tall boots. It seems to be really in this season."
Rider boots are slowly taking the lead over the ever-popular Uggs, not to mention, the 80's are making a comeback. The fashion tables have most definitely turned. Just remember one thing: Shoes can make or break your outfit.
The main focus and the first thing people will most likely notice is your outfit as a whole, so it's extremely important to wear something that reflects you.
Kelcey Beckman, Castle Pines resident and senior at RCHS said, "I always wear hats. Always. They're cute and easy to find, plus they help you stay warm. It's the same thing with scarves, you can find cute and cheap scarves at a place like Charming Charlie's and they match nearly anything."
It's important to stay classy, but don't be afraid to be sassy. Express yourself through your fashion, but during the winter months please express your common sense as well and stay warm. Happy New Year!