Eating clean and finding balance is a recipe for success
December 1, 2016
/
/
Comments Off

on Eating clean and finding balance is a recipe for success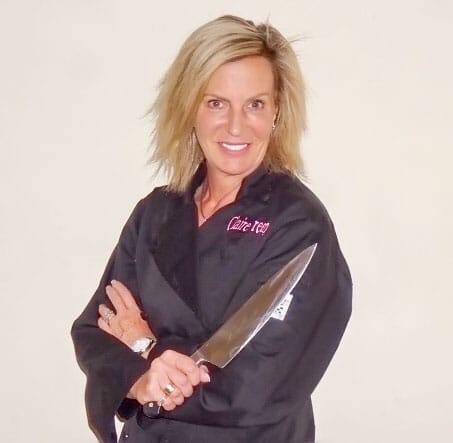 Claire Preen Shipley has appeared on numerous TV shows and has written two books: "50 Shades of Chocolate!" and "Diva's Guide to Dinner Parties" which can be purchased through Amazon.
By Nancy Koontz; photo courtesy of Claire Preen Shipley
Castle Pines Village resident Claire Preen Shipley leads a very active lifestyle. For the last year, she has sharpened her focus by combining her proven cooking skills with her vast knowledge of nutrition to help people get organized and achieve a healthier lifestyle.
Claire was born in England, but spent most of her life in Australia. She and her husband Mike have lived all over the world in places like Hong Kong, the UK, New Zealand, Singapore and more. When living in Hong Kong, Claire worked long hours, had no energy, ate processed foods – and the pollution in the environment didn't help. That was her wake-up call to change her lifestyle. During a trip to Colorado, the couple fell in love with being here and made Castle Pines Village their permanent home. Claire and Mike were drawn to the quality of the education and the safe neighborhoods of 80108. They have two sons, A.J. (20) and Charlie (18), and a daughter Tazzie (13). Claire recalled, "When we moved to Colorado from Australia, we sold everything we had and found it a cleansing experience to just start over!"
Claire is an author, publisher, and an award-winning chocolatier who is now developing "family friendly" healthy recipes to inspire others to eat well and thrive. She studied with a famous Belgian chef at Callebaut Chocolates and did coursework at the Cornell Institute of Cookery and the Colorado Culinary Academy. Her Healthy Blog (www.clairepreen.com) offers her readers delicious, plant-based recipes using unprocessed foods to create stress-free meals for the family.
Claire is also a private chef who will give you step-by-step instructions on how you can get all your meals ready for the week by preparing everything you need just on one day – like a Sunday. She will come to your house without charge to help. "My recipes are easy and not complicated. I've always been into health and prevention, rather than a cure, but I also believe that you shouldn't deprive yourself but should eat in moderation," she said. "I believe in eating fresh vegetables, legumes, good carbs and grains, limiting your meat, using herbs and spices to flavor your foods – while not denying yourself low-sugar sweet treats."
Claire has some great positive live your best life philosophies: "Don't spoil the fun of eating with feelings of guilt if you don't always eat right. Have what you like, but add healthy items with it. Allow your children to eat some of their favorites – just balance it out with other good foods."
Claire advocates that our environment is being spoiled, and she believes what we eat can reverse cancers and heart disease. She prefers to buy locally-grown organic foods. "Everyone needs to get to that healthy place in their own way and also be environmentally conscious. You will be less tired and fatigued, so give clean eating a try."
Claire has always been very athletic, and eight years ago she added tennis to her sports repertoire – acknowledging she has the knee replacements to prove her love for sports! In the spirit of nurturing her body and her mind, Claire is also now into yoga. When not exercising or cooking, Claire enjoys spending time with her family. She and her husband Mike own Key Media (a leading international media company) and Claire raves about her "accomplished in the publishing industry" husband: "If I'm happy, he's happy! He's the kindest, smartest, most incredible and funny man I know!"
I was able to catch Claire for our interview right before she left (as she says "to go on holiday") for Australia to meet with some of her old girlfriends at a fun tennis camp they attend each year on the North Coast of New South Wales. While she is in Australia, Claire will be eating healthy "but still drinking some champagne along the way!"
For more information on Claire, visit www.clairepreen.com or email her directly at goddessyogi@gmail.com.