Excitement and new beginnings are in the air at Rocky Heights Middle School
September 1, 2012
/
/
Comments Off

on Excitement and new beginnings are in the air at Rocky Heights Middle School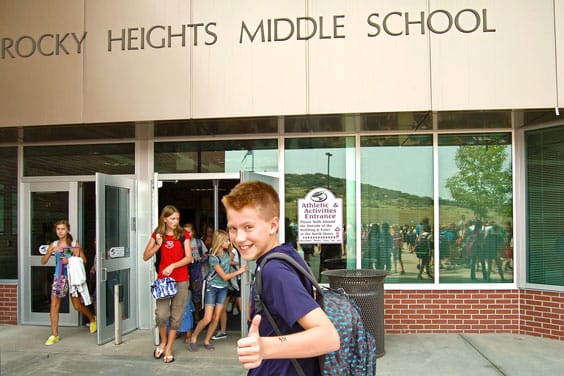 Sixth grade student and Castle Pines resident Seth Bowen has loved his first few weeks of middle school, and is finally getting used to his heavy backpack and huge binder. "I think it's really fun but really different – there are so many more people, and so many more teachers! I love it! It's fun to meet all the new people. They have really good food too!"
Article and photo by Amy Shanahan
On August 13, Rocky Heights Middle School (RHMS) opened its doors to the largest enrollment of students to date. With just over 1400 students, the school is full of energy and the staff and students are ready to make this a great year! RHMS is celebrating its 10 year anniversary this year, and looks forward to continuing to lead the way in world-class education.
The school kicked off its annual magazine fundraiser on August 28, with the theme "Game On!" The fundraiser is the one and only fundraiser for the year, and each year it brings the school together as both students and staff compete to hit various goals and receive fun prizes. The school hopes to hit $100,000 in gross sales this year, with all of the money raised financing improvements during this current school year. In the past, the school has financed purchases for the technology lab, special education, RoboticsCclub, curriculum enhancements, sports equipment, and much more.
RHMS is pleased to welcome several new faces to the team of administrators. Mike Loitz will serve as the new principal, Bob Winter is a new assistant principal and John Veit will serve as the new administrative dean. Kelly Kirkpatrick returned as an assistant principal. Several new teachers and support staff are also excited to be joining the RHMS family.