Experienced hands taking over The Flower Shop at Castle Pines
May 1, 2021
/
/
Comments Off

on Experienced hands taking over The Flower Shop at Castle Pines
By Lisa Nicklanovich; photo courtesy of Tiffany Ball
"Flowers are in my blood and have always been a part of my life," said Tiffany Ball. Tiffany's great-grandmother was well known throughout her community for her flower gardens and her beautiful arrangements for the local weddings. She passed on her knowledge to Tiffany's grandmother, who passed it on to her mother; who in turn passed it on to Tiffany. "As a child, I remember it was extremely important we had flowers in our home for every occasion," Tiffany said.
At 15 years old, Tiffany's first job was working at the local florist. In college, she thought she wanted to be a lawyer but she kept coming back to flowers. Tiffany and her sister provided the flowers for a wedding and worked out of a hotel room. "It was rough and dirty and awesome," Tiffany laughed. The sisters then opened a flower shop in Chicago in 2009.
Tiffany's husband, Eric, is a horticulturist and landscape contractor. "We spent our first date giggling over and quizzing one another on the Latin names of plants and flowers, and I knew he was the one I'd spend the rest of my life with," Tiffany shared. That was about 10 years ago.
After time spent in Chicago, Seattle, downtown Denver and Highlands Ranch, the couple moved to the Castle Valley neighborhood in Castle Pines in 2019. They said they are always thinking about their yard in terms of the plants and flowers. Tiffany exclaimed, "For me, if I'm not putting the flowers from my garden onto my table, I'm not fulfilled."
Tiffany said she had wanted to live in Castle Pines for the last six years and was thrilled to find their Castle Valley home. The home has space for Tiffany's mom who moved in with them, as well as their two young children Aiden and Sloane. Tiffany said, "Eric and I both grew up in very small towns and something we both love about Castle Pines is the small-town feel. Neighbors caring about each other, small shops, a great library but only 20 minutes to Denver for fresh sushi!"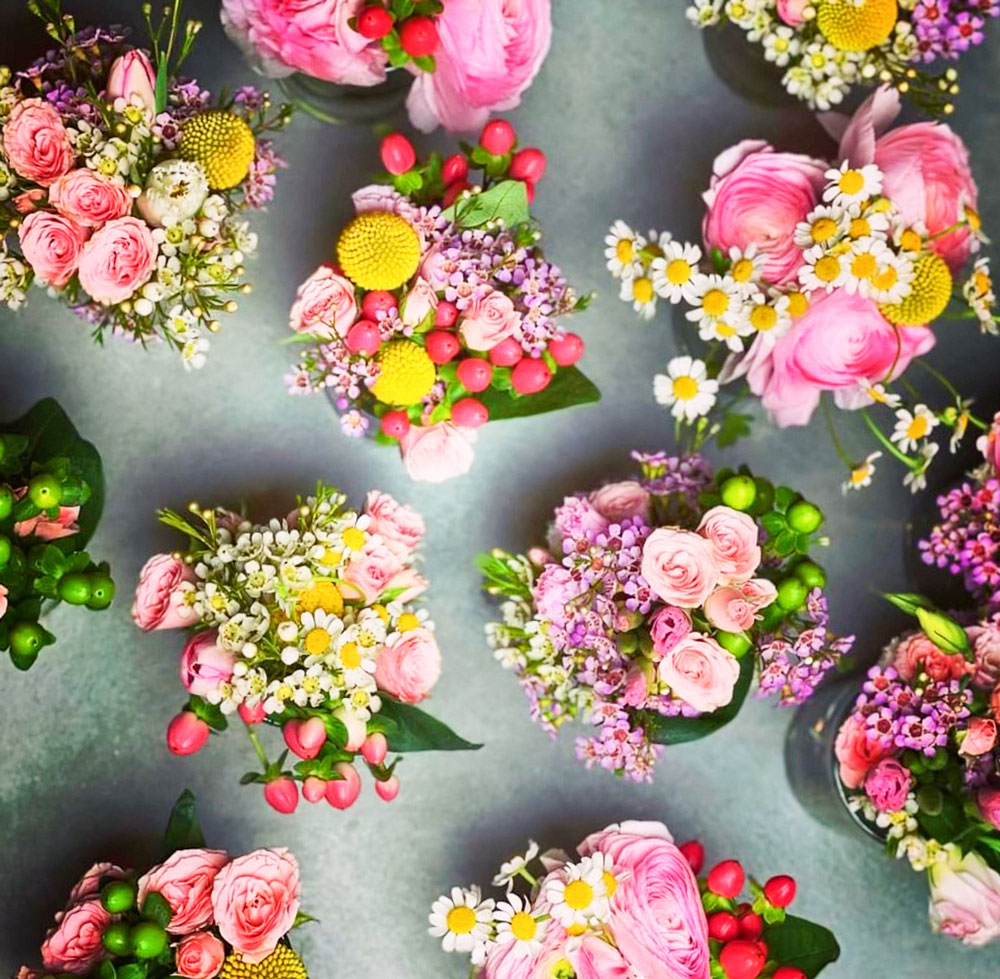 As the new owner of The Flower Shop at Castle Pines, Tiffany is excited to be providing the community with cut flowers, potted plants and succulent gardens for every occasion. Tiffany said she wants to have a retail space in the future, but for now she is working out of her home-based workshop.
Tiffany met Tim Hannon, the previous owner of the shop since 2005, at a certified nursing assistant (CNA) night class in 2018. Tiffany said, "As we all went around the room introducing ourselves, a man in the back stated he was a florist and owned a shop in Castle Pines. I gravitated to him when we were asked to work in partnerships, and it was at that moment my whole life changed. We learned we both have medically fragile children and we clicked immediately. After Tim and I completed our certification several months later, I asked Tim if I could work for him, and he allowed me the opportunity to do so. Several months later, he asked if I'd be interested in purchasing his shop upon his pending retirement: the rest is history!"
Tiffany said, "We are making sure we preserve the good Tim Hannon has done in the community a hundred different ways." Tiffany shared how fulfilling it is to be a part of all the important events of people's lives. "It's my dream job!" Tiffany said.
For more information, visit www.theflowershopcp.com or call Tiffany at 303-663-8835.