Finding our source of strength from within
November 1, 2015
/
/
Comments Off

on Finding our source of strength from within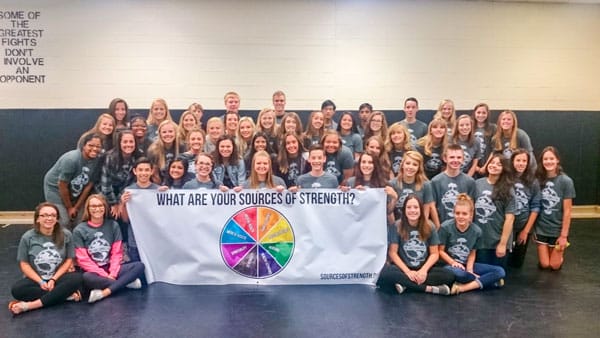 Article and photo by Riley Busch, RCHS intern writer
With the start of fall at Rock Canyon High School (RCHS) comes the start of many clubs and extracurricular activities. Among those, the RCHS Sources of Strength (SOS) club has started up again for a great year.
SOS is a national organization with clubs in schools all across America. The overall goal is to work together to bring students closer, as well as creating a stronger sense of community within the school. To create a safer environment, SOS works its hardest to prevent suicides and cases of self harm, as these can be seen all too often throughout the country.
Through many different activities and campaigns, SOS has come closer to achieving its goal. For example, in the previous school year, mental health week was hostedand included a pajama day and hot chocolate with positive messages written on the cup for the recipient.
Many Jaguars are working to make their school and community a better place for all. Though they are extremely thankful for all the help and participation they have received thus far, SOS is always looking to grow its numbers. "It is important to not only have members carrying out the message, but also driving what they see as the true needs of the school culture and climate. Students always know better than adults when something is up. The whole premise around the program is to break the codes of silence to allow adults to intervene," stated program supervisor Julia Richardson.
In the previous school year, in order to help students, Mentors Week was held where students were encouraged to point out their mentors within the school. Students wrote mentors' names on hand prints and wrote appreciation cards to show others that there are people to turn to for mentoring.
When asked how students can help contribute to SOS, student, participant and Castle Pines resident Courtney Cunningham stated, "I think that people can participate in the events that we hold, and get others to come! You can always help your friends through tough times and tell them about the club."
The RCHS Sources of Strength club has many plans for this year. While campaigns and activities are still in the planning stages, the rough ideas that have been presented are shaping up to be very nice projects. Not only are school-wide activities and sales a possibility, but SOS is also looking to branch out and connect with outside programs, as well as other schools, like our very own Rocky Heights Middle School. For more information, contact Staci McCormack, the Douglas County prevention and school culture coordinator at staci.mccormack@dcsdk12.org.