August 1, 2022
/
/
Comments Off

on Fossils in Florissant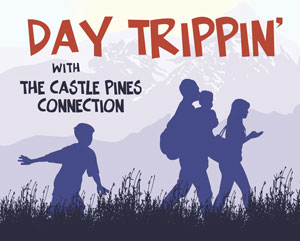 Just 40 miles southwest of Castle Pines is one of the richest fossil beds in the world. The Florissant Fossil Beds National Monument, in Teller County, was established in 1969 to protect the fossils and petrified redwood stumps found in an ancient lake bed.
The Monument has eight interconnected trails for a total of 15 miles of hiking. There is also an 1878 historic homestead to visit and picnic areas. The visitor center holds an extensive collection of delicate fossils on display.
The fossils date back to the late Eocene Epoch, about 34 million years ago (about 30 million years after the dinosaurs). Many of the fossils found in the vicinity are of insects, plants, and fish and most likely were preserved by volcanic ash combined with layers of mud and clay that settled in the bottom of the lake.
The Petrified Forest Loop is a self-guided, mile-long trail with views of many of the 30 known petrified redwood stumps, some measuring up to 14-feet wide. During the Eocene, it's believed that the stumps were buried by a violent mudslide full of debris. Volcanic water that had dissolved into the water flowed through the wood thus preserving the prehistoric stumps.
A visit to the Florissant Fossil Quarry, a mile north of the Monument, is also worth a look. Museum-quality fossils have been discovered at the Quarry and are on display there (as well as at Denver's Museum of Nature & Science). For hands-on fossil activities and for an hourly, $15 cash-only fee, fossil enthusiasts can split shale and keep the fossils they find. All supplies are provided, including splitting tools, brushes, magnifying glasses, and eye protection. The Quarry and all fossil hunting activities are outside, so come prepared with weather-appropriate layers, sunscreen, and headgear.
Florissant Fossil Beds National Monument is open daily, 9 a.m. to 5 p.m., year round with slightly shortened hours from November through March, and closures on major holidays. It has a $10/day fee, good for seven days, and credit cards are the preferred method of payment. The fee covers everything within the Monument, including visitor center exhibits, outdoor exhibits, hiking trails, picnic areas, the historic homestead, self-guided tours, and junior ranger programs. Pets are prohibited.
The Florissant Fossil Quarry is open to the public from 10 a.m. to 5 p.m. daily, Memorial Day through Labor Day. Call ahead to make appointments for large groups, even during the off-season. No picnics are allowed but snacks and drinks are welcome.
For more information, visit www.nps.gov/flfo/index.htm and www.florissantfossilquarry.com.
Article and photos by Celeste McNeil