Fried fowl, a twist on traditional holiday turkey
December 1, 2010
/
/
Comments Off

on Fried fowl, a twist on traditional holiday turkey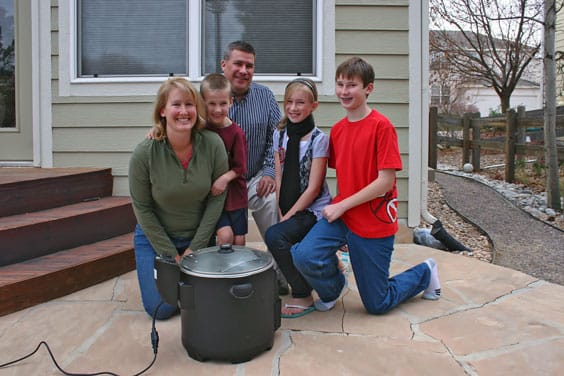 The Pfeiffer family gathered around their trusty turkey fryer this Thanksgiving (left to right) Susan, Sam, Tim, Ally, and Drew.
Article by Kathy Dunker with photos provided by Susan Pfeiffer
Deep fried turkey may not seem like the typical tradition, but Tim and Susan Pfeiffer, residents of Stonecroft, are on their fifth year of deep frying their bird. The Pfeiffer's love the results!
Turkey fryers are serious pieces of equipment and can be a bit daunting at first sight. It is recommended that not larger than a ten to twelve pound turkey be used since bigger turkeys don't fit well which can cause a spillover. Peanut oil is typically the oil of choice for this kind of frying due to the flavor and the higher smoke point, which translates to extremely hot oil.
The Pfeiffer's have had first hand experience with a spillover. One year due to weather, they fried their turkey on the front porch so they would have overhead coverage. The hot oil in the fryer spilled over which nearly ignited decorative hay bales they had on their porch. It's best to keep a fire extinguisher near by when frying, and remember that the fryer will stay hot for several hours after use.
The Pfeiffer's are not hesitant to continue their annual frying. As Susan Pfeiffer said, "Fried turkey comes out so delicious and moist. I don't think I would ever go back." Although stuffing baked inside the turkey is now a faded memory for the Pfeiffer's, she went on to say, "That is the one thing that I miss. But it's worth it!"
Tim Pfeiffer has his own regimen for the fried fowl every Thanksgiving. He starts off by boiling a mixture of Italian dressing, honey, brown sugar, lemon juice and spices, which is then injected into an eleven pound bird in several places for flavor. He then puts the turkey in his electric fryer on the back, stone porch for about 45 minutes. When the turkey is done frying, Pfeiffer is still working as he puts a baste of brown sugar, ground chili pepper, and kosher salt on top of the bird and bakes it for an additional 30 to 45 minutes in the oven.
Tim Pfeiffer says about frying, "It's easy, tastes a ton better, stays really juicy, and the crispy skin from the crust we put on it is so good!" Even when traveling to the home state of Ohio for Thanksgiving one year, the fryer came along for the ride so the extended Pfeiffer family could enjoy the fried fowl as well.