Girl Scout Troop 65517 visits water treatment facility
May 1, 2018
/
/
Comments Off

on Girl Scout Troop 65517 visits water treatment facility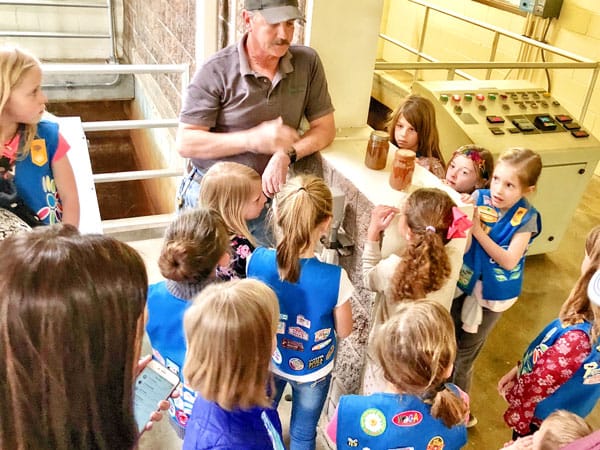 CPNMD lead water operator Cory Williams talks with Troop 65517 about the three feet of rock and sand used to help filter water.
Information provided by the Castle Pines North Metropolitan District
Eleven members of Castle Pines Girls Scout Troop 65517 working toward their "make the world a better place" petal took a tour last month of the Castle Pines North Metropolitan District (CPNMD) water treatment facility and learned what it takes to get water to their homes.
When CPNMD District Manager Jim Nikkel asked the six- and seven-year-old girls where their water comes from, one of the Scouts anxiously shouted, "the ocean." Other guesses included lakes and through pipelines. Nikkel explained that, given Colorado's geography, they rely on 11 wells (seven that are operational) drilled into the ground throughout the community and that water is pumped up into the treatment facility – a process they saw firsthand.
Lead water operator Cory Williams, who has been working in the water business in Castle Pines since 1994, showed the Scouts the steps to pump, treat, monitor and distribute water, including samples of the nearly three feet of sand and crushed rock that act as the filtering mechanism for the well water.
"The best thing was learning about where our water comes from and what goes into it so we can drink it safely," said Siri Thomasen.
The petal the Scouts are working toward focuses on preservation and conservation. Following the tour, one of the troop leaders engaged the Scouts in a discussion about using less resources, including water and recycling.
For information on water conservation, visit CPNMD.org/conservation.