Giving the gift of music to the children of Haiti
November 1, 2011
/
/
Comments Off

on Giving the gift of music to the children of Haiti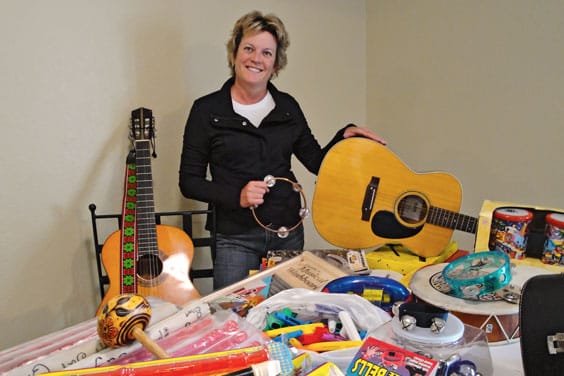 Kim Butorac gets ready to head to Haiti with her collection of musical instruments that have been donated by many generous individuals.
By Patte Smith with photo provided by Kim Butorac
One person can make a difference in this world, and does. Surrey Ridge neighbor and music lover Kim Butorac is on her way to Haiti at the end of November, and with her goes musical instruments. Guitars, a banjo, a trumpet, recorders, tambourines, sheet music, and money donated to a cause close to her heart – the children of Haiti.
"Music of the Heart" is an outreach program that Butorac started this year after attending a presentation given by a visiting priest from the remote village of Anse au Veau, Haiti. "I was very touched by his talk and I knew immediately that I wanted to do something positive for the children there," explained Butorac. "I love music and the Haitians love singing and dancing, so I organized Music of the Heart."
Butorac's goal is to raise money to buy new musical instruments and collect used instruments to start a music program at the local school in Anse au Veau. "I have received so many donations, and am overwhelmed by everyone's generosity. I wanted to surprise the children with a keyboard for their church, and I have already received enough donations to purchase it!"
Although maybe a tad apprehensive, Butorac is filled with excitement and anticipation for what she considers "a spiritual adventure." "I have never done anything like this. I don't know what to expect or where I will be staying, but what the heck, I can't wait to meet the children."
While there are limitations on how much Butorac can take to Haiti, one of the major airlines has agreed to take many of the items for free. "I'll have to package everything as compact as possible, so small items such as recorders, harmonicas and flutes are great to get. If I find I have extra monetary donations, I will give it to the children's school. There are also many remote villages and schools that can use it."
Butorac will travel with three other individuals to Haiti. "We have learned from travelers who have been to Haiti that even though the Haitian people don't have a lot, they are joyful and give of themselves and what they do have freely. I can't wait to experience that joy and hopefully give some with Music of the Heart."
For more information about Music of the Heart, contact Butorac by e-mail kim@premiercharter.com or visit Facebook for the Music of the Heart Haiti Outreach Program.