Going from the big league to little league
October 1, 2010
/
/
Comments Off

on Going from the big league to little league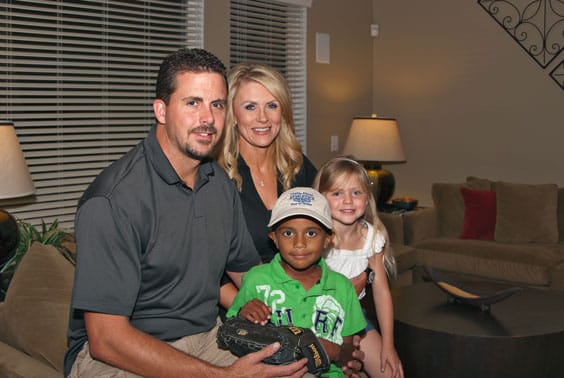 Jason, wife Deena, son and first year t-Baller Anthony, and daughter Grace.
Article by Tracy Dudley with photo by Tim Gamble
This past summer, former major league baseball player Jason Woodring decided to get back into the sport by coaching a Castle Pines Athletics kindergarten t-ball team in Castle Pines North (CPN). Though Jason has years of experience as a high level player, he was a bit modest and a little hesitant to coach young kids.
"I was so afraid of letting down the new t-ballers. Sure, I could coach a high school team and not worry about it, but having new inexperienced players was scary; I knew it was up to me to lead them in the right direction."
A Colorado native, Woodring graduated from Columbine High School in 1992 and earned a full-ride baseball scholarship to Trinidad State Jr. College in Southern Colorado. The summer after his first year in Trinidad, Woodring was drafted into the Montreal Expos farm system. He played in the minors nearly nine years, and even made a brief appearance in the big leagues. Like many professional players, Woodring spent later years in independent baseball. In fact, he met his current wife Deena during an off season there and decided to retire from baseball.
"After I met my wife, baseball seemed to become secondary in my life. I stayed away from baseball for a number of years," said Woodring. "Then when my son was finally old enough to play t-ball, I knew it was time for me to start enjoying the sport again."
Woodring currently resides in the Hidden Pointe neighborhood of CPN and operates his own business. Getting into coaching again has reminded him how much he really enjoys being part of the
community.
"Coaching young children was a great gift to me. Watching the kids grow through the season gave me a great sense of enjoyment, and I am looking forward to next summer for another season," said Woodring.
His philosophy is not to push young players too much because he believes they need to be comfortable with themselves in order to progress. However, he also tells his players everyone is just as good as the next guy, but the extra effort will make them shine above the rest.