Golf pro in Castle Pines Village receives national recognition
May 1, 2013
/
/
Comments Off

on Golf pro in Castle Pines Village receives national recognition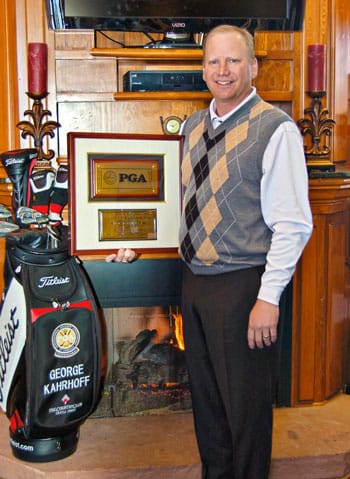 Head golf pro George Kahrhoff was honored to receive the award for 2012 PGA Private Merchandiser of the Year in Orlando, Florida earlier this year. "This award is all about the staff and members of The Country Club at Castle Pines," remarked Kahrhoff. "It's very little about me."

Article and photo by Amy Shanahan
George Kahrhoff, the head golf pro at The Country Club at Castle Pines (CCCP) was recently named the 2012 PGA Private Merchandiser of the Year by PGA Magazine at its annual national awards ceremony. Kahrhoff received this award after completing an extensive application and after having received recognition as the Colorado Section Private Merchandiser of the Year.
This prestigious award is given in recognition of specific criteria. Winners are leaders in their area and are creative and successful with their ideas, buying selection, and inventory in their golf shop. The CCCP golf shop, under the leadership of Kahrhoff, has a superior staff whose service to the members and merchandising are at the forefront of clubs around the country.
Kahrhoff believes that excellent service, an updated shop, and close relationships with members are key components of a successful pro shop. The CCCP has spent millions of dollars on improvements and additions during the past year and a half, and the golf shop was updated with new curtains, granite countertops, and newly-painted display units.
Kahrhoff, originally from Nebraska, has called Colorado home since 1988, and he has spent his career at several golf clubs in Colorado including The Country Club of Colorado in Colorado Springs, Cherry Hills Country Club, and Sonnenalp in Vail. Kahrhoff joined the CCCP as general manager and head golf pro in February of 2008 and he values the wonderful neighborhood, schools, and opportunities that this area has to offer him and his wife and their two sons. "We chose to move to this area for our kids, but it has turned out to be a great experience for us all," remarked Kahrhoff. "The membership at the CCCP is fabulous; they support everything we do."
This award speaks to the quality and service that are inherent to The Country Club at Castle Pines. For membership information, contact Brian Nishi by email at bnishi@ccofcastlepines.com or call 303-660-6807.