Elementary school students achieve their "destination"
May 1, 2013
/
/
Comments Off

on Elementary school students achieve their "destination"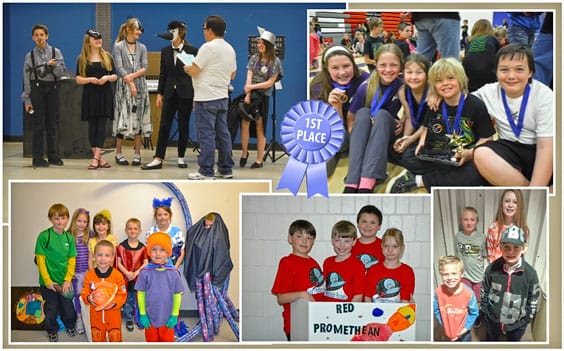 By Lisa Crockett; courtesy photos
Several teams of students from Rock Canyon High School, Rocky Heights Middle School, Buffalo Ridge Elementary and Timber Trail Elementary competed in a tournament last month designed to test their skills in subjects ranging from engineering to the fine arts. The tournament was part of a worldwide organization called "Destination Imagination (DI)," a program aimed at fostering self-sufficient and creative problem solvers. Two teams from Castle Pines schools – one from Buffalo Ridge Elementary School and one from Rocky Heights Middle School – advanced to the state tournament, and later this month the Buffalo Ridge team will represent their school and the state at the Global Finals in Knoxville, Tennessee.
DI has been in existence since 1999 and has steadily gained participants. Douglas County has seen dramatic growth in its participation in the last few years. Two years ago, just 18 teams from Douglas County participated in the local tournament; this year there were 70.
Seven teams from Timber Trail Elementary competed this year. They were coached by parent volunteers under the direction of Michelle Misuraca, who is the co-enrichment program coordinator for the TTEA, Timber Trail's PTO.
"I was looking for educational programs for students that incorporate STEM (science, technology, engineering and math) as well as the arts and service learning. Destination Imagination does that in a fun and challenging way for kids," said Misuraca. "The program has benefitted participants by teaching them how to be creative problem solvers through communicating effectively and working in teams to innovate and manage change."
Teams showcase their skills in two ways in competition. The first is a presentation – planned and executed by the participants with strict rules about interference from parents, adult coaches, and even other students outside the team – which the team plans and practices for several months. The second is called an "instant challenge," a surprise problem the team must solve without any prior preparation and without any help from outside sources.
"The instant challenge requires you to have 'think on your feet' skills," said Katie Carlson, a fifth grader on the Buffalo Ridge team – the TV Tornadoes – going to Global Finals. "You have to learn how to act quickly to do what you have to do, to talk and listen to the other members of your team."
Those skills, which Katie and her teammates have been working to develop, paid off when they were selected to be one of 60 teams to represent the state this year at the culminating event. Teams from as far away as Singapore and Australia will be in attendance.
"It was such a surprise and a huge honor to be selected to go," said Angela Carlson, coach of the TV Tornadoes. "Now we have to raise the $6,500 we need to get the team there and pay their expenses. Just like our DI challenge, the fundraising effort will be driven by the kids."
Carlson and the team have already raised nearly half of the required funds, which will be used for airfare, lodging, meals and supplies during the four days of the Global Finals. The Buffalo Ridge Education Association (Buffalo Ridge's PTO), is giving a $100 scholarship to each of the five team members and is sponsoring a school-wide 'penny war.' Additional fundraising in the community is in the works, and even though it's a lot of money to raise in just a few weeks, the team is confident they can do it and is focusing mostly on what they have to look forward to at finals.
"I can't wait to see what people from all over the world do," said Katie. "This is something I love to do."
For more information on fundraising for the TV Tornadoes, visit the "TV Tornadoes" page on Facebook. For more information about Destination Imagination, visit www.destinationimagination.org.