Good, green fun featured at Octoberfest
October 1, 2012
/
/
Comments Off

on Good, green fun featured at Octoberfest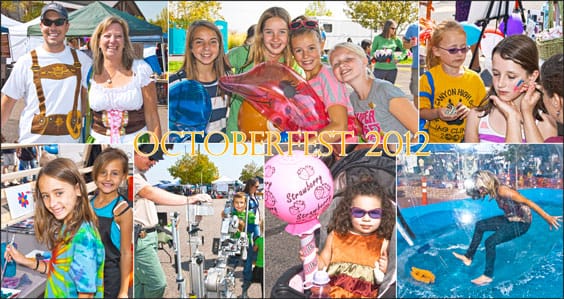 The annual Octoberfest in Castle Pines featured fun activities for families and friends of the area. The local business community was the theme of this year's event and they were pleased to meet and greet the residents of Castle Pines. Local agencies, such as the Douglas County Sheriff's Office and the Douglas County Library, were also on hand.
Article by Lisa Crockett; photos by Lisa Crockett and Tim Gamble
Nearly 2,500 people came to the Castle Pines annual Octoberfest celebration in the Castle Pines Marketplace shopping center to eat, drink and be merry. Local businesses turned out in force to celebrate with customers by providing small gifts and services, often free of charge.
"The theme of this event is 'Celebrating Business and Community'," said Carla Kenny, vice president of the Castle Pines Chamber of Commerce. "I think this is a great way for businesses to get out and meet people face to face. There's really something for everyone here."
In keeping with the Octoberfest theme, Aspen Deli – a new addition to the Castle Pines dining scene – offered a menu of beer brats, knockwurst, goulash and apple strudel. Mexican restaurant Las Fajitas served street tacos, quesadillas, and burritos.
"It's been a busy day and it's wonderful to be a part of this community," said Aspen Deli owner Lisa Payne.
Kids enjoyed a variety of activities and treats, including air castles and face painting provided by the Animal Care Center, as well as a new activity called WOW Bubbles. The bubbles, which are really human-sized plastic balls floating on the surface of an inflatable pool, allow participants to "Walk on Water," (WOW) provided they can keep their balance.
Local agencies, ranging from the Douglas County Republicans to the Douglas County Library hosted booths. A wide range of businesses, including some new members of the Castle Pines business community, joined in the fun as well. Special thanks to all who stopped by The Castle Pines Connection booth and said hello!
One thing absent from this year's event was the noise of a generator to provide power to vendors at the Octoberfest. Instead of a traditional generator, Lone Tree alternative power company SolaRover powered the event using a mobile solar power system.
The large solar panels, visible at the far end of the event, silently soaked up the sun and provided electricity for all vendors and participants. "We're happy to be here at this event," said John Spisak, director and CEO of SolaRover. "It's a way for us to be a good neighbor and provide power that doesn't create noise or pollution."
A new concept, SolaRover was born after Spisak and his colleagues witnessed the devastation of Hurricane Katrina. "With a traditional diesel generator, if you can't refuel you are simply delaying the inevitable," said Spisak. "With a portable unit like this, you can keep it protected during a storm or emergency and use it immediately after and you don't have to worry about resupply of fuel or oil."
The SolaRover units can even be used indoors and are a great way to power a home, a business, or machinery that is off the conventional power grid. "Here in Colorado we have so much great sunshine," said Spisak. "An event like this is a wonderful way to use it." To learn more about SolaRover, go to
www.solarover.com.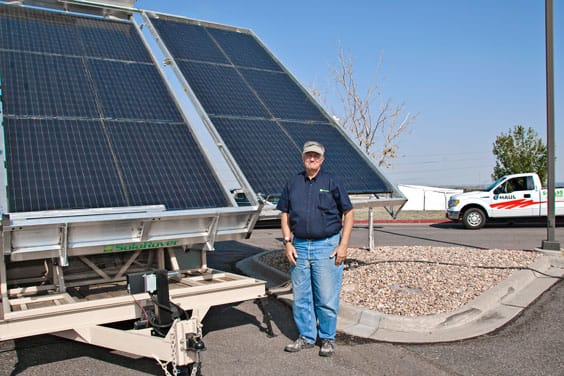 John Spisak, director and CEO of SolaRover, stands in front of the
mobile solar power system that silently and cleanly provided electricity
to this year's Octoberfest.
Also cool at the Octoberfest this year:
The world's largest rock 'n' roll based cancer foundation – which typically collects bone marrow donor information at concerts and festivals — collected cell samples from 65 potential bone marrow donors at this year's Octoberfest.
As part of its "Get on the List" campaign, the donor drive was held in honor of four-month-old Cole Pacheco. Baby Cole has a rare blood disorder called Him Syndrome, which compromises his immune system. The only cure is a bone marrow transplant.
Cole's parents, David and Megan Pacheco, attend Solid Life church. The Love, Hope, Strength drive was held in the booth next to the one hosted by Solid Life.
For more information on Love, Hope, Strength, visit www.lovehopestrength.org.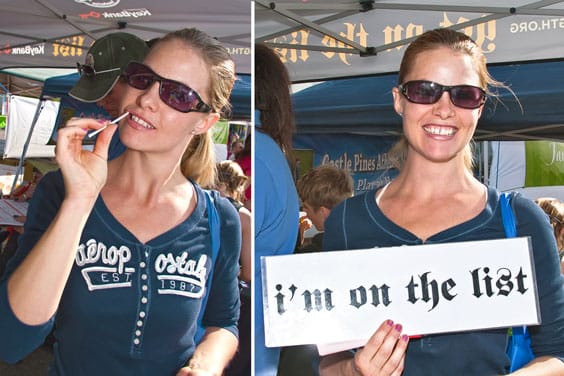 Beverly Hills resident Tiffany Eubanks swabs her mouth at the Castle Pines Octoberfest as part of a bone marrow donor drive hosted by cancer charity Love, Hope, Strength.