Gratitude given to volunteers of Project Recycle
August 1, 2015
/
/
Comments Off

on Gratitude given to volunteers of Project Recycle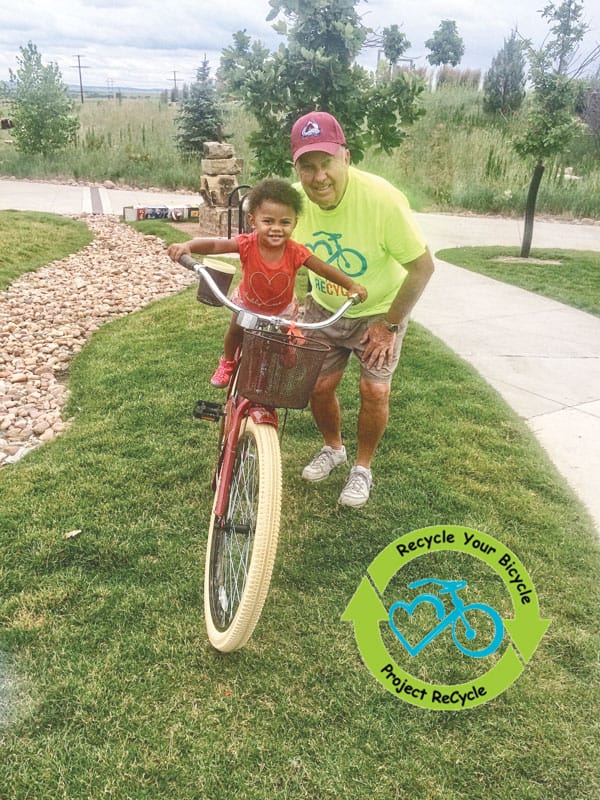 More than 200 volunteers donated their time to Project Recycle, a local nonprofit organization that gives recycled bikes to children and adults in need. These volunteers spent a beautiful day together at Elk Ridge Park in July. Jim Mullen and his great-granddaughter Harper Ann Cooper both volunteered for Project Recycle and attended the event at Elk Ridge Park in July.

By Amy Shanahan; photo courtesy of AJ Stapleton
On a beautiful sunny day in Castle Pines, local nonprofit organization Project Recycle took some time to thank its more than 200 volunteers. The organization held a party for them featuring food from Tony's Market and The Social, refreshments and beer courtesy of the Lone Tree Brewery, and live music by Steady Rush.
Volunteers and their families enjoyed socializing and being recognized for the tremendous work that they do to support Project Recycle. The organization was begun in 2008 by AJ Stapleton and gained nonprofit status in 2010. The mission of the organization is to "provide smiles to children all over the state by donating a bicycle."
Project Recycle has a large space in the Castle Rock Adventist Hospital that they utilize to recycle used bikes they receive from their supporters including five local Walmart stores. Numerous volunteers as well as two part time mechanics use parts from other bikes to fix up bicycles so that they are like new. Recipients of these bicycles include children from all over the state who are referred to Project Recycle via 20 different agencies that the organization works with including the Douglas/Elbert Task Force and the Crisis Center. In addition to children, Project Recycle provides adults who are in need of transportation with a like-new bike.
Every time the organization gives a bike to someone in need, they also include a bike helmet, a water bottle, a bike lock, and safety instructions for the children. The cost of these items amounts to approximately $42 each, so the organization also relies on the generosity of volunteer donors.
To date, the organization has given away more than 5,000 bikes. Most recently the organization teamed up with local schools, including Sedalia Elementary, to create its Dream Bike Program whereby children are rewarded with a new bike at the end of their academic year after showing respect, attendance and academic growth.
Stapleton recognizes that none of this could happen without his volunteers. "Our volunteers are a tremendous asset," remarked Stapleton. "It takes thousands of hours to recycle these bikes, and our volunteers are ultimately responsible for the smiles on children's faces when they receive a bike. Our volunteers are our lifeline!"
Project Recycle will be holding its annual "Night of Laughter" fundraiser on November 4 at ComedyWorks. To learn more about this event and about the organization, or to make a donation, visit www.ProjectRecycle.org.