Green Gals inspire environmental awareness through the Lexus Eco Challenge
January 1, 2018
/
/
Comments Off

on Green Gals inspire environmental awareness through the Lexus Eco Challenge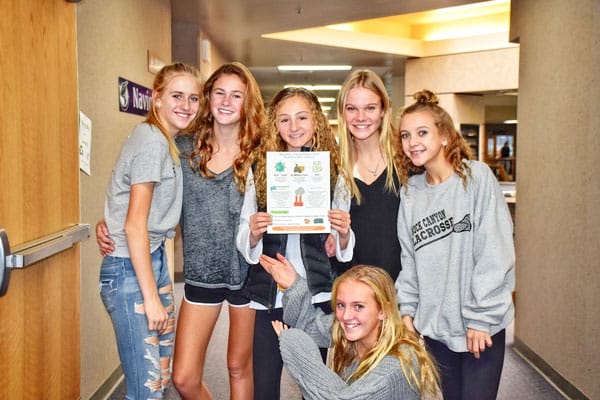 The Green Gals, from top left to bottom right Piper Landon, Hailey Van Auken, Sadie Rowe, Charleigh Gibson, Devon Wilkins and Kaitlin Hicks. The team's Lexus Eco Challenge project focused around the use of reusable versus nonreusable bags.
By Kira Zizzo, RCHS intern writer; photo courtesy of Rachel Cook
In a nationwide contest sponsored by Scholastic and Lexus, Rocky Heights Middle School (RHMS) students on the Navigator team raised environmental awareness and change through the collaboration of many minds. In the Lexus Eco Challenge, students had the chance to explore a path of inquiry by researching and discovering solutions to environmental issues related to either land, water, air or climate.
The RHMS team of winners from the Lexus Eco Challenge were the "Green Gals" and included Hailey Van Auken, Sadie Rowe, Piper Landon, Charleigh Gibson, Devon Wilkins and Kaitlin Hicks. The team's project focused on the broad aspects of reusable versus nonreusable bags in the school, as well as in the community.
To begin, the Green Gals started researching, creating posters, designing a website and surveying. They crafted a survey comparing the number of people who use reusable bags in comparison to nonreusable bags when shopping. More than 400 RHMS students responded to the survey. To achieve more accurate and broader survey answers, the team conducted a survey at the local Castle Pines King Soopers comparing the amount of shoppers who use and do not use reusable shopping bags. From this data, the Green Gals observed that there is an absence of awareness around this topic, and that has a significant impact on the environment's well-being. This innovative team then realized that they needed to make a change in the community and effectively raise awareness. They created posters that were hung up around the school and the grocery store.
Rowe commented, "I think that the Lexus Eco Challenge was a great opportunity, and it opened my eyes to issues in our world that can be improved with the help of many people."
The Green Gal's project aimed to spark an awareness about increasing the usage of reusable bags when grocery shopping. Hailey Van Auken explained, "Lexus Eco Challenge is important because it provides students with the ability to make a true difference in their schools, communities, and beyond. There is a great lack in awareness in Colorado, and the rest of the United States, so Lexus Eco Challenge steps in to change that."
The overall Lexus Eco Challenge prize was $10,000. The six girls split $7,000, RHMS received $2,000, and their teacher/advisor Heather Hanley received $1,000.
The Lexus Eco Challenge was a true eye-opener to an important environmental issue. A well-deserved congratulations to the Green Gals for their project, which raised awareness about reusable and nonreusable bags.