Gritty pioneers discover their own paths to survival
July 1, 2017
/
/
Comments Off

on Gritty pioneers discover their own paths to survival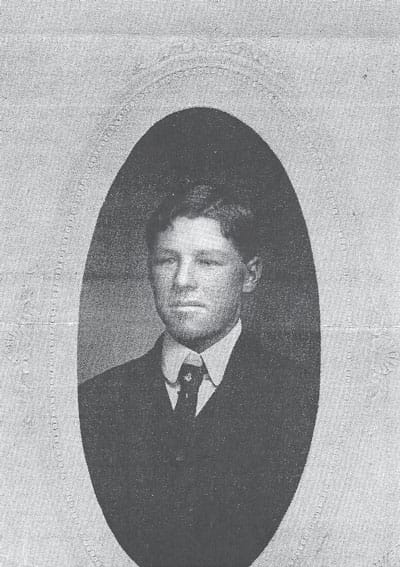 Picture of Ed Wolfensberger, age 25


By Joe Gschwendtner; photo courtesy of Douglas County History Research Center
We know much of the Chases, Krolls and Schweigers who dominated our early upland history. Life for smaller landholders was far more gritty and tiring, often merely subsistence. Often unable to afford nominal land prices, many homesteaded on small, marginal plots – squatting really, just according to the government's ground rules. Devoid of capital and machines, weather, hard luck and illness would often determine their fate.
Jacob Wolfensberger was born in March 1865 in Switzerland. Orphaned at age 8, he trained as a shoemaker. Seeking more and saving enough cash, he booked passage to America in 1883. Upon arrival, Wolfensberger traveled to Wisconsin doing odd farm jobs and learning English. Unsatisfied there, he migrated one last time to Colorado.
In 1891, Wolfensberger wed Swedish-born Martha Bengston of Sedalia. He worked on local farms until he was ready to claim land. In 1896, he homesteaded 160 acres, centered roughly at what is now the Aztec Drive cul-de-sac in Castle Pines Village. Over time, he quintupled his acreage and became at least a modestly successful dairy and stockman. But brother Ed's holding of more than 1,800 acres brought him greater fame and fortune and Wolfensberger Road was later named for his ranch.
Less fortunate was Jacob's homesteading neighbor, Cyril B. Reynolds, an Englishman late to the land rush. Staking out his interests in 1911 and 1919, his two claims were marginal and not contiguous. His easternmost 40 acres centered at 1061 Country Club Estates Drive in Castle Pines Village while the other 80 acres nestled on the southeast flank of today's Sanctuary Golf Course. Failing at agriculture, Reynolds went in a different direction: becoming Daniel's Park's first caretaker, working later at DuPont's explosive factory in Louviers, and managing the Douglas County Fair later in life. He met a gruesome death at a Sedalia railroad crossing when struck by a Santa Fe train in 1943.
The Bardell brothers found their way to Colorado from Kansas and Illinois. Older brother John claimed a quarter section in a north-south 40-acre ribbon format in 1898. The eastern portion of John's holdings is today's straight-line northeastern boundary of Castle Pines Village. John died of stomach cancer before his claim was vested but wife Alvira managed to keep the farmstead afloat. Advertisements of the day tout her "bountiful quantities of ripe cherries suitable for canning or eating." Inexplicably, Alvira died in 1901 and sister-in-law Cora Bardell put the property up for sale. Her listing cited "Young orchard of 1,000 bearing fruit trees, good well, barns, chickens, etc."
Brother Lawson Bardell arrived late staking claim to 80 acres due north of Alvira's property in 1902. His property's center of mass was at the juncture of Tenby Way and Clare Drive in the City of Castle Pines. Lawson was likely not a good farmer since he had to have passed on the option to take over Alvira's place from her heirs. History shows that Lawson busied himself in a variety of odd jobs: hauling, iron salvage, and by 1906 becoming deputy sheriff of Larkspur. Oddly enough, although both Bardell families homesteaded in 80108, they chose later to live in the Greenland-Larkspur area. More history to come…
Wildcat Lore
As it turns out, The Connection serves residents of the Wildcat Mountains, a name pioneers and historians gave to the high country paralleling I-25 from Highlands Ranch and Lone Tree south to Castle Rock. Since the first territorial road (Daniels Park Road) bisected our mountains, there was no shortage of colorful characters parading through what are now private properties on the ridges of Douglas County. We bring these grizzled and gutsy settlers alive again, vividly sharing their stories of grit and achievement in these Castle Pines.