Growing South Metro Volleyball brings youth programs local
April 1, 2012
/
/
Comments Off

on Growing South Metro Volleyball brings youth programs local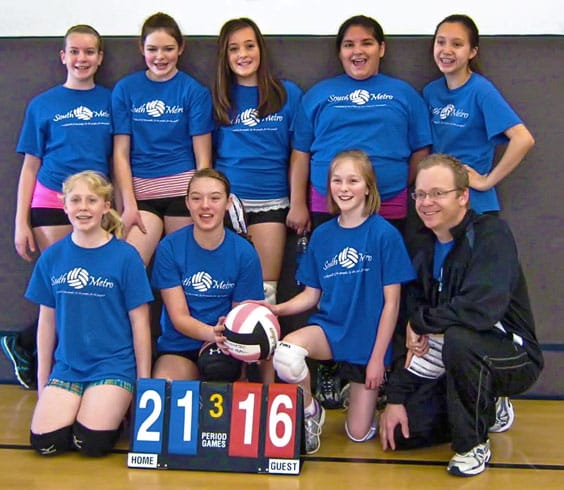 Team "Bumple Bees" featuring residents of Castle Pines and Sapphire Point, as well as students who attend DCS Montessori and American Academy. Back row: Jesse M, Rebecca P, Claire O, Jasmine F (lives in Sapphire Pointe), Krystal M (lives in BriarCliff, goes to DCS Montessori). Front row: Brynnley B (lives in Sapphire Pointe), Abigayle E, Kyra J, Coach Scott Bunker (lives in Sapphire Pointe). Not pictured: Kelsey Lofvenborg (goes to American Academy, mom works at American Academy).
By Tracy Dudley with photo by Chris Bunker
Since its inception nearly three years ago, South Metro Volleyball has offered competitive youth volleyball across the southern metro area. Recently, the rapidly expanding organization made American Academy in Castle Pines one of its main headquarters. South Metro's niche product, the competitive year-round youth volleyball league, has grown so large that management has had to set limits on registration.
For the winter session in January and February, the organization boasted 64 competitive youth volleyball teams across nine distinct divisions. With that unprecedented size for a grassroots organization, the small management team stretched themselves to the limits, successfully orchestrating practices and games across six facilities.
"South Metro Volleyball has made a change in favor of the communities in our market. It absolutely feels wonderful to write court rental checks to local churches and schools, like American Academy," said Tracy Dudley, founder of South Metro Volleyball. "Instead of feeding more money to already-affluent building landlords, we now get the honor of adding to the budgets of local deserving organizations. It's a double win for us. We get to help kids of every age, shape, size and gender play high level volleyball without paying exorbitant elite club prices, while simultaneously helping the surrounding communities."
Back in 2009, South Metro Volleyball pioneered the "middle ground" concept in youth volleyball. The State of Colorado offers numerous recreational volleyball programs and elite volleyball clubs, but the niche in the middle had been vacant for decades. In less than three years, South Metro Volleyball has grown its competitive youth league from 200 players with 24 coaches to 650 players with more than 70 coaches. Moreover, participants continue to rave about the company's focus on quality and integrity.
"I was initially drawn to South Metro Volleyball by the philosophy advertised on the website and the high expectations laid out for all participants and their families," said Carrie Huff, whose daughter practices at American Academy. She went on to state, "Every representative I have met at South Metro is a perfect reflection of those values and expectations. Any communication I have received represents the organization in nothing but the most positive light. I applaud the efforts of all those who have created such a unique and special program! We have nothing but the highest regard for what they are doing," she stated.
South Metro Volleyball offers numerous other programs for advancement of volleyball skills, including camps, clinics, and tournaments. Several of these programs are currently offered at American Academy, right here in Castle Pines.
For more information about South Metro Volleyball and the programs offered locally, visit www.southmetrovball.com.