Halloween Safety Tips and Venues
October 1, 2006
/
/
Comments Off

on Halloween Safety Tips and Venues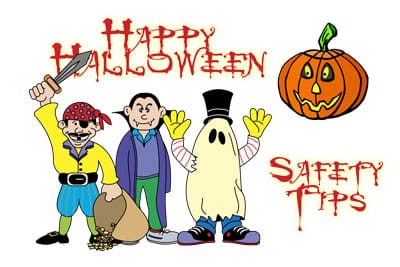 by Terri Wiebold
As witches, goblins, and super-heroes descend on neighborhoods across Castle Pines North this October 31, the Master Association joins the American Red Cross in offering parents some safety tips to help prepare children for a safe and enjoyable trick-or-treat experience. Halloween should be filled with surprise and enjoyment, and following some common sense practices can keep events safer and more fun for everyone involved.

Safety tips for parents and trick-or-treaters:
Wear light-colored or reflective-type clothing so goblins do not mistake you for one of their own.
If possible, have adult supervision, and plan a route in advance.
Carry a flashlight to light the way.
Cross the street only at corners, and avoid hiding or walking between parked cars and tombstones.
Keep away from open fires and candles, as costumes can be extremely flammable.
Visit homes that have the porch light on.
Be cautious of animals and strangers.
Consider using face paint rather than masks or things that will cover your eyes and nose.
Have an adult inspect treats before eating, and do not eat candy if the package is already opened. Remember that small, hard pieces of candy are a choking hazard for young children.
Accept treats at the door, and NEVER go into a stranger's house.
Walk, slither, and sneak on sidewalks, not in the street.
Look both ways before crossing the street to check for cars, trucks, and low-flying brooms.
Throw out candy or treats that are homemade, unwrapped or if they appear to have been tampered with (pinholes in wrappers, torn wrappers, etc.)
Wash all fresh fruit thoroughly, inspect it for holes, including small punctures, and cut it open before allowing children to eat it.

Safety tips for homeowners:
Prepare for trick-or-treaters by removing obstacles from the yard, restraining dogs and other animals, and lighting the house well.
Provide treats that are individually wrapped or offer kids non-food treats such as stickers, erasers or certificates.
Artificial lights and candles on porches and in pumpkins are a safe alternative to real candles that can pose a fire hazard.
Be creative this Halloween and try new and fun things. Perhaps propose a "buy back" of candy from your kids (a penny, nickel or dime a piece) and donate the candy to the receptionist's desk at the office – a healthy alternative that leaves kids with a full set of teeth instead of a jack-o-lantern's smile. Allow kids to touch, smell and taste the inside of a pumpkin, and make it a family affair. Have a safe Halloween.
Safety information provided by the American Red Cross
Halloween Fun In and Around Castle Pines North
by Elean Gersack
Ghosts and goblins will soon be out looking for tricks and treats. Here are some fun alternatives or additions to traditional Halloween trick-or-treating.

Boo at the Zoo –
The Denver Zoo
October 28 and 29 from 9 a.m. to 4 p.m.
The Denver Zoo's 23rd Annual "Boo at the Zoo" offers trick-or-treaters close encounters of the creepy kind – viewing vampire bats, reptiles, spiders, and other Denver Zoo creatures – all free with admission.
Call 303-376-4800 or visit www.denverzoo.org for more information.

Garden of the Goodies –
Hudson Gardens
October 28 and 29 from 5:30 p.m. to 7:30 p.m.
Kids can enjoy a safe trick-or-treat around the lighted and decorated Oval Garden. This event is free for everyone.
For more information, visit www.hudsongardens.org.

Halloween with Horses –
The Colorado Horse Park in Parker
October 21 from 10 a.m. to 6 p.m.
This family fall festival provides a unique and safe environment for Halloween lovers of all ages. A safe trick or treat barn, a pumpkin patch, a stable of terror, costumed horse and kids contests, a petting zoo, face painting, pony rides, entertainment, food, crafts and more. The cost is $7 per person and children under age one are free.
For more information, visit www.halloweenwithhorses.com.

Pumpkin Festival –
The Denver Botanic Gardens at Chatfield
October 14 and 15 from 9 a.m. to 5 p.m.
The Denver Botanic Gardens at Chatfield's 10-acre pumpkin patch will be full of pumpkins on October 14 and 15. Come out and find the perfect one. Also enjoy hayrides, barrel train rides, crafts and concessions. The amazing Corn Maze is located right next door. The cost is $5 for adults and $3 for children (tickets to the Corn Maze are sold separately.)
For more information, visit www.botanicgardens.org/pageinpage/pumpkinfestival.cfm.

Trick or Trick OFF the Street –
The Wildlife Experience
October 31 from 2 p.m. to 7 p.m.
The Wildlife Experience will host Trick-or-Treat OFF the Street on Tuesday, October 31. This safe and fun Halloween celebration is for children of all ages and features games, scary stories, creepy crawly crafts, and a haunted graveyard. Candy booths will line the museum's hallways so children can fill bags with candy and spooky toys. Admission is free for children under two, $4.95 for children ages two to 12, $7.95 for adults and $6.95 for seniors. Members of The Wildlife Experience receive free admission.
For more information, visit www.thewildlifeexperience.com.

Pumpkin Pandemonium Decorating Contest –
Philip S. Miller Library, Castle Rock
October 27-29
The Philip S. Miller Library is hosting their eighth Annual Pumpkin Decorating Contest for children and teens. Children up to age 11 and teens ages 12 to 18 are invited to submit decorated pumpkins to the library between Friday, October 27 and Sunday, October 29 for display and judging. Judging will take place Monday, October 30, for the Scariest, Funniest and Most Creative pumpkins. All winners will receive a ribbon and a gift certificate to 3 Lynx Toys or Dream Pastry. One pumpkin per contestant. Please leave all candles and lighting devices at home.