Harlequins Rugby Club girls set sights on first place
November 1, 2014
/
/
Comments Off

on Harlequins Rugby Club girls set sights on first place
The Highlands Ranch Harlequins girls rugby team is playing its third season. After two seasons of taking first-runners-up, they have their sights set on first place.
By Lisa Crockett; photos by Dave Tweed
The Highlands Ranch Harlequins, a rugby club for high school students at Rock Canyon (RCHS), Highlands Ranch, Mountain Vista, and ThunderRidge started a girls team just a few short years ago and has already garnered some impressive success.
"This is our third year for girls rugby," said Harlequins coach Andre Joubert. "We have finished as runner-up in the state championship the first two years and hope to go one better this year; it's looking promising so far!"
It may seem like a paradox, but a big part of the Harlequins' success lies in the team's ability to learn a sport that is, for most of them, a totally new skill. Because most of the players didn't grow up playing the sport, they are true beginners so great coaching is crucial.
"Coach Andre is the best coach of any sport I've ever had," said Cat Wylie, an RCHS senior who plays on the team. "I'm new to the sport but he's really helped me excel. He works with me for as long as it takes, which is sometimes a long time."
Rugby is a famously rough sport, but the girls who play on the team are enthusiastic about the intensity of the game and the challenge it provides.
"This is a non-stop sport, which is what I love about it," said Kristen Wylie, Cat's sister and a RCHS freshman who plays on the team. "It's also truly a team sport; you really learn to rely on and work with the rest of the girls on the team."
That solid team spirit and shared sense of accomplishment is echoed by Kristen's teammates, 21 players who comprise two teams playing "7s" style rugby (seven players on a team.)
"We decided to be the first team in the league to field two teams from the same club," said Joubert. "We prefer to play 7s style rugby as it's what will be included in the Olympic games. We have a couple players who have aspirations of playing in the next Olympics."
Working with the team has provided many opportunities for the girls to grow individually, too. The 7s team means fewer players on the field than in 15s style, and that means players are highly engaged throughout the game. It also allows players to try different positions, giving them a well-rounded experience in the game.
"I think it's really cool that there is girls rugby," said Olivia Voss, another RCHS freshman on the team. "There's so much camaraderie on the team, and it's also taught me that I'm tougher than I think I am."
For more information about the Highlands Ranch Harlequins, which is open to high-school age players, visit www.hrharlequins.com.
For information about TRY Rugby summer league play, which is open to players up to age 17, visit www.rugbycolorado.com.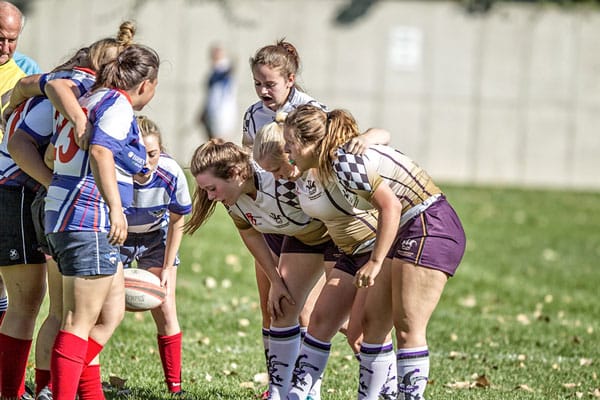 The Harlequins have players from Rock Canyon, Mountain Vista and ThunderRidge, including several players from Castle Pines. Included in this scrum are Castle Pines residents Kat Wylie (RCHS) and Emy Pye (MVHS).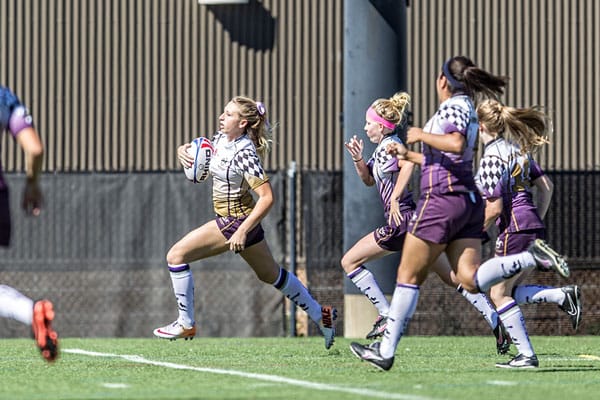 So-called "7s" rugby – named for the number of players on the field during play – provides continuous opportunities for player engagement. The Harlequins have two 7s teams.