Hitting the mountain trails
February 1, 2021
/
/
Comments Off

on Hitting the mountain trails
By Shaun Kernahan; courtesy photos

Followers of the Farmers' Almanac have probably made note that February could be a rough month for a daily commute, but on the upside, it looks promising for enjoying the many outdoor winter activities Colorado has to offer. The almanac projects a winter with heavy snow and below-average temperatures. This month could prove to be the perfect time to pull out those snowshoes from the back of the closet and hit a snow-packed trail.
Should Old Man Winter bless the Denver metro area with significant snowfall, most Douglas County hiking trails transform into ideal options for snowshoeing. If the snow remains in the mountains, a short trip west offers several more ways to participate in the sport. Many ski resorts offer snowshoe rentals as well as incredible trails for exploring. Outside of the resorts, two additional popular spots are the Colorado Trail and Rocky Mountain National Park.
Snowshoeing is a great low-impact aerobic workout and allows enthusiasts to enjoy some of the state's incredible winter landscape while getting a good workout at the same time. The sport is a perfect way for hikers and runners to extend their sports season. Stacie Chadwick and her daughter, Grace, are avid hikers in the warmer months and enjoy hitting some of their favorite trails when they are less crowded and covered in snow.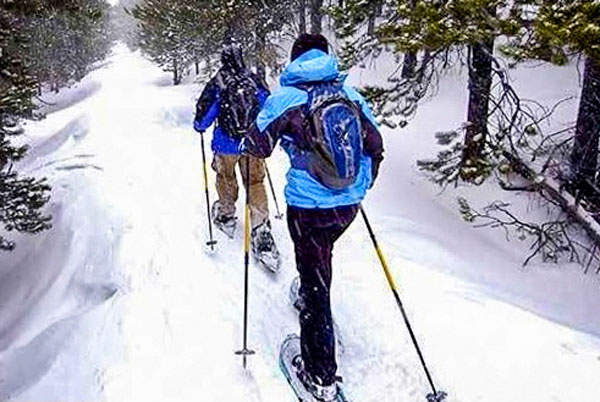 On a bluebird day in January, the Chadwicks completed a snowshoe hike up Herman Gulch Trail, a 7-mile out and back trek, located near Idaho Springs. The area hadn't seen snow in several days, so the trail was packed and easy to follow. Snowshoeing is ideal for flat terrain. Herman Gulch Trail has sections ideal for strapping on snowshoes, but with significant gains in elevation, Chadwick said she and her daughter swapped out their snowshoes for spikes to give them stability climbing – and more importantly, when they came back down the trail.
In the summer, this hike is considered an intermediate trail, but in the winter, it is more difficult. Chadwick said Herman Gulch is a gorgeous trail no matter what season. "In the winter months, the trail offers a starker beauty than the muted tones of summer," she said.
Colorado outdoor enthusiasts know that the weather can change on a dime. Sunny skies can quickly turn into a blowing snowstorm. Being overprepared is being prepared when heading out on the mountain. Planning the day from trail maps to weather forecasts, as well as including an extra pair of socks, hand and foot warmers and even a granola bar or two can make the difference between a fun day outdoors or a trip to the emergency room. As a rule of thumb, the longer or more remote the snowshoe trip is and the more inclement the weather, the more clothing, gear, food and water should be packed.
Snowshoeing is one of the state's more accessible winter sports. Required gear, in addition to appropriate outdoor winter clothing, includes snowshoes, spikes and poles. For anyone reluctant to head out on a trail alone, there are many guided hikes that can be found with a simple search on the internet.