HOA1 Works Toward Compromise with Lagae Ranch Developer
December 1, 2006
/
/
Comments Off

on HOA1 Works Toward Compromise with Lagae Ranch Developer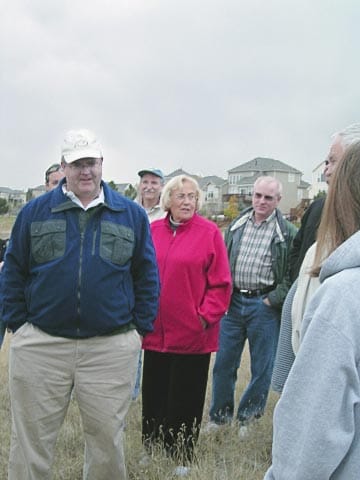 Developer Chris Fellows (left) walks the Lagae Ranch property while talking with HOA1 residents. (Photo by Lane Roberts)


by Lane Roberts
For years, residents in HOA1 have enjoyed hundreds of acres of open space – right in their back yards.
HOA1, which consists of the 424 homes in Royal Hill, Knights Bridge and Noble Ridge, owns a portion of the open space that backs to Lagae Ranch which could become part of a propsed park and ball field area.
Plans for the development of Lagae Ranch, the 240-acre parcel of land located behind King Soopers and adjacent to HOA1, are quickly moving forward.
In the past two months, Lagae Ranch developer Chris Fellows of HF Holdings, LLC, has hosted numerous meetings with HOA1 homeowners to listen to key issues of concerns regarding the newly proposed development. Many questions from HOA1 residents evolved following the distribution of mailers entitled, "News From Across the Fence Post" – publications created and distributed by HF Holdings.
On October 14, more than 30 residents from HOA1 toured the site with Fellows and asked dozens of questions related to potential traffic issues and other key concerns regarding a proposed site for a new school, and potential ball fields and parks.
Fellows has said he has a commitment with American Academy, a Castle Pines North founded charter school, and has promised the school a site on the parcel. The school is currently housed in a retail property in Lone Tree and is eager to have a permanent home in CPN. The lottery for attendance at the school is open to all residents of Douglas County, though a large percentage of the school's student body calls CPN home. If the proposal goes forward, the new school would increase from 475 students to roughly 600.
The proposed school would be located east of HOA1, near the proposed extension of Monarch Boulevard into the Lagae development. While many HOA1 residents would like the school relocated to other civic land use areas on the parcel, Fellows has indicated that the power line corridor has restricted the relocation of the school site.
During the meeting, HOA1 residents also asked Fellows to search for an alternative traffic solution to vastly improve access from the northern portion of the parcel (Lagae Road) to the proposed school site and to re-examine the proposed plan for extending Monarch Boulevard behind HOA1.
Ten days later, Fellows presented an alternative plan to residents to meet their requests at another HOA1 meeting. "Anything that affects our homes, affects all of us," said Fellows. "This is a dramatically different plan on how Monarch will look."
According to Fellows, homes that currently back to the Lagae parcel will be buffered in many areas by open space, native scrub oak and new trees. Other homes in the area will be adjacent to a proposed park and ball field area. No homes in HOA1 will back directly to the school or to additional homes.
Proposed compromises presented by the developer seemed to be generally accepted by most HOA1 residents. "You've addressed our concerns," said HOA1 Board Member Eva Mitchell.
HOA1 board members will continue to work directly with Fellows as the development moves forward. "It is very important for us to find a plan that works for HOA1," said Fellows.
On November 1, Fellows hosted another meeting for CPNII residents at Timber Trail Elementary. Watch for future Lagae Ranch meetings in community e-mails as the developer continues to move forward with concepts for this development.
To share comments about the proposed development of Lagae Ranch, please e-mail editor@cpnhoa.org.