Implementing Incorporation Feasibility Plan a Challenging Process
August 1, 2008
/
/
Comments Off

on Implementing Incorporation Feasibility Plan a Challenging Process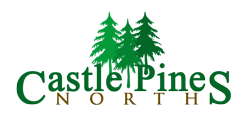 by Terri Wiebold
November 2007 was the beginning of the Castle Pines North (CPN) story. Now, six months after formally becoming a city, officials are busy writing CPN's next chapter.

Revisiting the Incorporation Process
During the incorporation process that spanned more than 12 months, a team of seven CPN residents including representatives from the CPN Master Association, CPN Metro District, Castle Pines Parks Authority, and CPNII HOA, selected a firm to perform the economic feasibility study to comprehensively explore if incorporation was a viable option for CPN. Out of that process, the team selected CH2M HILL OMI to conduct an economic feasibility study for CPN.
Throughout the incorporation effort, CH2M HILL OMI presented its conclusions at numerous public meetings stating that becoming a city was, "financially viable without substantial tax increases if the city could consolidate certain management functions and services." This included consolidating services with the CPN Metro District (public works and utilities), Douglas County (roads and public works), and HOAs (solid waste collection and street maintenance).
In their 2007 Economic Feasibility Study presented to CPN residents last year, CH2M HILL OMI identified mills paid to the CPN Metro District as a "potential revenue source for the new city and an integral part of the city's financial viability." The study stated that if CPN residents vote for incorporation, "the Castle Pines North Metro District should be integrated into the new city to increase efficiency and reduce costs." The study also noted that if the Metro District mills were transferred to the city, so would the responsibility to provide the services funded by those mills.

Possible Integration Ideas Presented
Since CH2M HILL OMI developed the incorporation Economic Feasibility Study last year, they are suggesting integration scenarios to both the city and the Metro District.
CH2M HILL OMI presented the city's preliminary integration plan to the Castle Pines North Metro District board of directors and the more than 30 residents in attendance at their monthly board meeting on July 21. Since that time, additional meetings have been held discussing alternative options.
While possible consolidation of some HOA services and assuming County functions is certainly on the city's docket, this collaborative approach and potential integration with the Metro District is "first and foremost," according to Don Howell, program director for CH2M HILL OMI.
"The success of the incorporation effort was predicated on forging a collaborative working relationship with the Metro District and integrating some services," said Mayor Maureen Shul, leader of the incorporation effort. "Now is the time for the entities to come together to work toward solutions that best serve the community, and that is being done."
Renewable water is also a primary concern of the new city and according to CH2M HILL OMI, integration would not prohibit the Metro District from continuing to move forward with efforts to secure financing for future water supplies.
"As you can imagine, this is no small task," said newly elected Metro District President Bill Santos. "As part of the feasibility study last year, CH2M HILL developed a financial model on how the city would be funded. Obviously, they had to make assumptions around consolidation opportunities and savings. We are now in the process of reviewing this financial model against our current budgets to ensure we, as a District and a city, are able to deliver the services we provide today, at the level our residents expect, while ensuring that we don't impact our ability to continue our renewable water solution plans."
Santos says the process is a careful "balancing act." "We need the full support of the District, city officials, and our common constituency in order to get this done right," he said. "We are committed to working with the city and CH2M HILL to maximize the value we deliver to our citizens."
"The goals of incorporation are the same as they were last year in the original economic feasibility study," said Shul. "This is nothing new; however, the task now is finding a way to implement this plan to benefit both the city, the taxpayers and our search for renewable water. It is a challenging task, but we believe that by working together, we can make this happen."