Increase customer engagement through digital reciprocity
February 1, 2018
/
/
Comments Off

on Increase customer engagement through digital reciprocity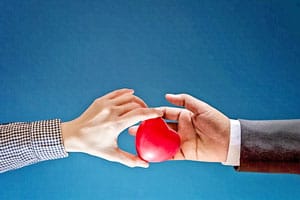 By Michelle Post
Reciprocity in business has long been expressed in tangible forms (i.e., hand-written thank you notes, the giving and receiving of business cards at networking events and coupons for customer loyalty, to name a few.). As technology changes, businesses that want a competitive edge must adapt and evolve, and increasing customer engagement in the digital realm is an effective way to gain that advantage. Technology and social media provide additional opportunities for a business to increase customer engagement through digital means. Here are a few ways how:
Thank your customers on your business Facebook page by creating a short post specific to them. Perhaps request the customer to take a picture with you and ask if you can post it, then write a thank you in the description of the post and tag the customer's Facebook page if he or she has one. (Visit https://www.facebook.com/help/218027134882349/ for tips how to tag individuals and businesses in Facebook).
Ask your customer(s) for a review on Google, Yelp and/or Facebook, and when the review is written, respond to it with feedback to the customer. Use language specific to the original post so as not to come across as generic. Ask the customer if you can use the review on your business website. This "testimonial" will create social influence for your business.
Capitalize on opportunities to give more to your engaged customers. For example, offer other resources or exclusive discounts to customers who provide you with their email address and/or phone number or who "share" and "like" you on social media.
When doing business with another business, "like" their Facebook page, follow their other social media accounts (Instagram, Twitter, etc.) and ask to connect on professional networking sites (LinkedIn, etc.). This demonstrates your interest in their business and your desire to engage in a more long-term working relationship.
Make it part of your content strategy to do a weekly shout-out to a different business or individual that helps you with your business. Let others know how much you appreciate your internal customers as much as you do your external customers. You can do the same for your employees, too.
I like to say, "give a little love to receive a little love." Whether in traditional format or in the digital world, reciprocity can increase customer engagement, which is good for business. A word of caution, however: customers are smart and know when a business or individual is just being nice to get the sale – authenticity is critical.