Inventors convene at Timber Trail Elementary
April 1, 2014
/
/
Comments Off

on Inventors convene at Timber Trail Elementary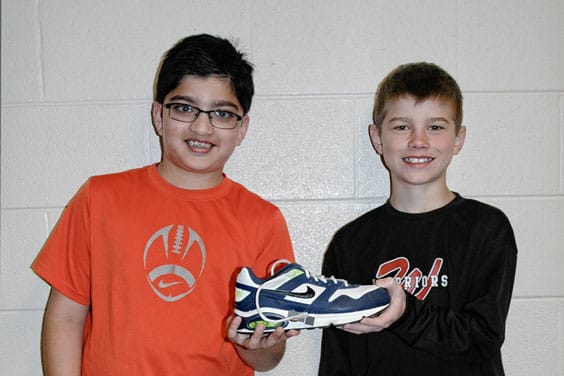 Sahil Malik (left) and Carter Spielmann (right) took first place at Timber Trail
Elementary's "Invention Convention" for their magnetized shoelaces. The invention solves the problem of shoes that won't stay tied.
Article and photos by Lisa Crockett
Have you ever been bothered by cold ears while skiing? Do bath towels on the floor drive you mad? Perhaps you're looking for a more precise way to crush soda cans, pour breakfast cereal, or even brush the dog's teeth. Students at Timber Trail Elementary (TTE) came up with novel solutions to these problems and more at their bi-annual "Invention Convention," held last month at the school.
The Invention Convention is TTE's version of a science fair and challenges students to think of ways to make daily life better and then craft a prototype of their idea. Projects range from the very simple to the very elaborate, but all involve the "four C's" – creativity, critical thinking, collaboration and communication. Students had to work together to take ideas from concept to finished product and then share with visitors to the convention how their product worked.
"I love to see what the kids come up with," said Kari Pringle, a fourth grade teacher who planned and managed the event. "They really do have amazing ideas and build some really useful things."
Winners are named based on votes from students in lower grades who visit the convention. Top honors this year went to Carter Spielmann and Sahil Malik, fourth graders who teamed up to solve the age-old problem of untied shoes. They devised special laces containing magnets that hook to the sides of the shoe in order to keep them out of the way. Winning was a surprise to them, but both say they were happy to take first place.
"People are constantly tripping on their shoelaces," said Spielmann. "That's not good for anybody."
Malik has been an avid fan of the event at the school as an attendee for the last several years and was happy to finally have a chance to participate now that he's old enough.
"It was a dream come true to win," he said.