Jeepers Creepers! Corby Place haunted house is a family affair
November 1, 2012
/
/
Comments Off

on Jeepers Creepers! Corby Place haunted house is a family affair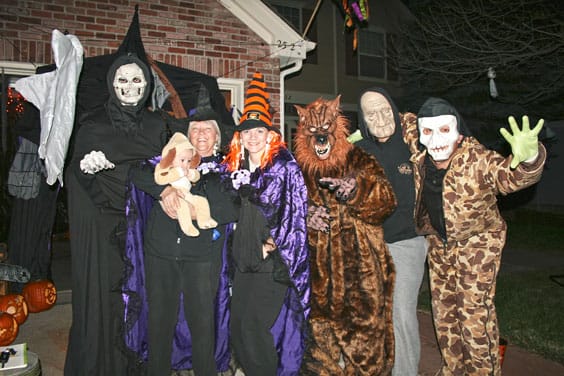 The current cast of characters are: Grimm Reeper Skeletor – Steve Davis; Good Witches – Brenda Davis and Halee Belcher with grandbaby Kivlin Belcher in tow; Werewolf – Zach Belcher; Creepy Old Man – Jamie Davis; and Camo Skeletor – Drew Davis.


By Elean Gersack
All things creepy, goolish and frightful is what you will find when stepping into the Davis' family haunted house located in the city of Castle Pines. This family tradition started back in 1992 and has been growing in size and cast members ever since.
Buffalo Ridge Elementary School (BRE) kindergarten teacher, Brenda Davis and her husband, Steve, own the house located at 252 Corby Place and are the masters behind this popular Halloween event.
Brenda's unsuspecting students stop by for a treat and are frightened instead. The path to the candy bowl takes trick or treaters by a Werewolf, Creepy Old Man, Caged Animal, Camouflaged Skeletor, and finally to the Grimm Reeper Skeletor , played by Steve. Brenda takes part as the good witch greeting kids as they arrive and consoling them as they leave.
In the early years, Steve sat still and alone on the front porch as Skeletor. Kids did not know if he was real or not. As he would move slightly, kids would scream. In the years since, the event moved to fill the garage and has become a family affair to include the Davis' kids, their spouses and even grandchildren.
"It's awesome to see the smiles and thrills from the neighborhood kids, especially the ones who know sweet Mrs. Davis from BRE," shared daughter and fellow good witch, Halee Belcher. "I always go with a friend!" shared fifth grader and neighbor Em.
Kyle Huebsch, 17, is a former Davis kindergarten student who lives close-by and has been visiting the haunted house since he was four. "The first time I was so scared that I didn't make it though – I ran back out!" he shared. As he reached for the candy bowl, Skeletor's hand reached out and Huebsch jumped. "I didn't go back the next year or two," he added.
Eventually, Huebsch came to appreciate the fun and got pleasure from watching younger kids screaming and running out the house and down the street. "It used to be me doing that," he laughed.
The Corby Place haunted house will play out as long as the family lives there. It has clearly become a tradition that will provide wonderful stories for years to come. "As long as they [our parents] live at 252, we will be there to make a night of it," said Belcher. "As their children, we hope that every year we do something similar wherever we call home."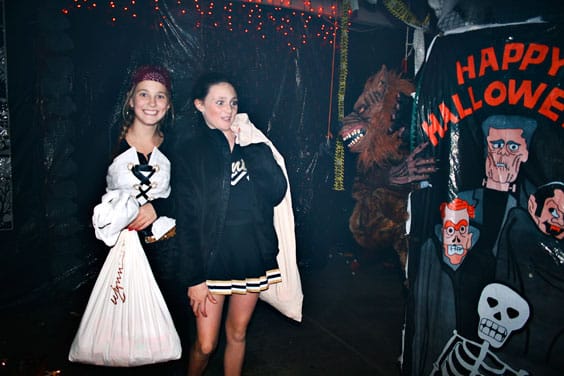 Teenage girls get a fright from the werewolf!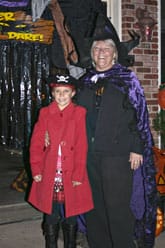 Mrs. Davis and former student, Grace, are all smiles before she enters the haunted house.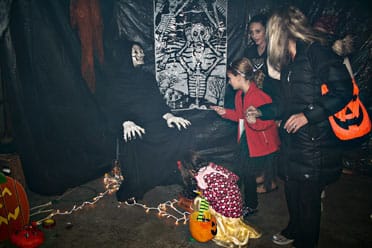 Trick or treaters make it to the bowl of candy at the foot of the Grimm Reeper Skeletor.