Lacrosse in Castle Pines – from a pro
May 1, 2013
/
/
Comments Off

on Lacrosse in Castle Pines – from a pro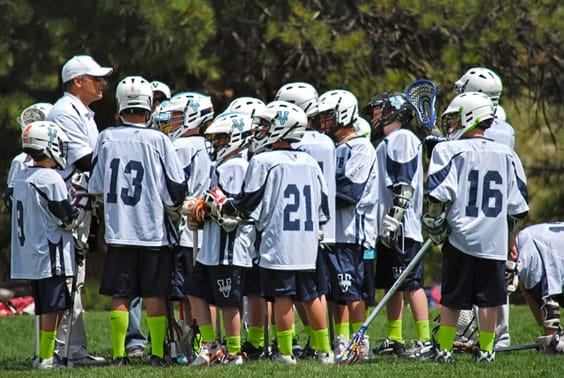 Castle Pines resident and former professional lacrosse player Bill Edell coaching a boys youth lacrosse team. This summer, Edell is running lacrosse camps at Elk Ridge Park in Castle Pines.
By Lisa Crockett; photo courtesy of Bill Edell
Castle Pines resident Bill Edell is passionate about lacrosse. He's spent most of his personal and professional life heavily involved in the game – including playing professionally for both the Boston Blazers and the Boston Cannons, and as the offensive coordinator for the Denver Outlaws. This summer, Edell is bringing the sport to Castle Pines by running youth lacrosse camps at Elk Ridge Park.
"Lacrosse is a fantastic sport for young athletes of all types," said Edell. "It combines many of the best aspects of other popular team sports into one. It is fast paced, and very fun to play – really offers all the things kids like about sports."
Edell sites many valuable life lessons learned through his involvement in lacrosse – things like teamwork, discipline and commitment. And although Edell is an expert, his camp will be open to kids at all levels of play, including boys and girls who have never picked up a lacrosse stick before (girls are welcome, although they will be playing boys lacrosse rules.)
"The camp will be fun and kids will learn the sport properly in a positive and supportive environment," he said. "The camp will also provide ways for players with more advanced skills to develop their ability."
In addition to his professional career playing the sport, Edell has made a primary career in the sporting goods manufacturing business and has years of experience with youth lacrosse, including his own amateur playing days. He is assistant coach for his 12-year-old son Will's team and always has ready advice for his 8-year-old son Justin. Bringing a lacrosse program close to home was a natural next step for Edell, after years of coaching and running youth camps in the south metro area.
"I wanted to provide something right here in Castle Pines, and Elk Ridge is really a great facility," he said. "I think one of the positives to the game and a major contributor to the rapid growth of lacrosse participation is that not only is it fun to play, it's also fun for the parents to watch, and I wanted to share that with the community."
Castle Pines Lacrosse Camp will be held at Elk Ridge Park from 9:30 a.m. until 12:30 p.m. from June 3 to June 6 for players ages 8 to 13, and from 9:30 a.m. until 3:30 p.m. from July 15 to July 18 for players ages 8 to 17. For more information, visit www.encounterlacrosse.com or call Edell directly at 303-809-0045 or e-mail edellb21@gmail.com.