Library hosts magical Harry Potter celebration
August 1, 2011
/
/
Comments Off

on Library hosts magical Harry Potter celebration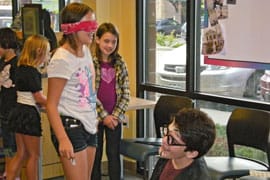 In a Potter-ized twist of a traditional party game, witches and wizards attempt to pin the scar on Harry, played by Teen Volunteer Group member Hunter Gill.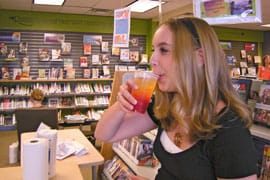 Teen Volunteer Group member Larissa Rosendale samples her highly potent layered love potion brewed up during Potions class.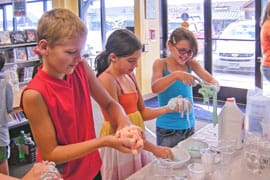 In Potions class, witches and wizards get their hands dirty concocting slimy dragon snot.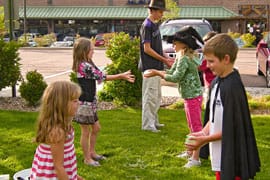 Young witches and wizards are careful not to break their dragon eggs during "Care of Magical Creatures" class.
By Lisa Crockett. Photos and captions courtesy of Dana Dejong-Boots
Harry Potter fans in the Castle Pines community knew that the final movie would be something to celebrate. So on the movie's opening night, teen volunteers at the Castle Pines Library went all out to provide a magical evening for nearly 30 little witches and wizards who attended the party.
"These kids love doing projects," said Dana Dejong-Boots, the youth librarian at the Castle Pines and Lone Tree Libraries. "They came up with a long and varied list of fun things for the kids to do."
The evening's activities included getting "sorted" by the sorting hat, and then participating in several Harry Potter-themed games and projects, which were presented as if they were school classes at Hogwarts School of Witchcraft and Wizardry. The evening's activities included making a layered "love potion" (made of fruit juice and soda), tossing dragon eggs (water balloons), "flying" on brooms through an obstacle course and playing "pin the scar on Harry Potter," – featuring a live target (a teen volunteer playing Harry.)
"Harry Potter is such a phenomenon and has gotten so many kids reading," said Dejong-Boots. "This was something that really needed to be celebrated and was a lot of fun."
Teenagers interested in volunteering at the Castle Pines Library can contact librarian Beth Dalton for more information at 303-791-7323. Volunteer hours at the library can be used to fill DCSD high school graduation requirements.